Applications
Industrial Conveyor Systems
Dorner Conveyors offers a wide range of industrial conveyor systems to help companies move their products and materials more efficiently. Our reliable and durable solutions are designed to handle everything from large, heavy loads to delicate items. We can customize our solutions to meet your specific needs. 
What Are Industrial Conveyor Systems?
An industrial conveyor system is designed to move materials quickly and efficiently, and can be customized to fit the specific needs of the application. Industrial conveyor systems can be used in a variety of settings, including:
Assembly lines
Manufacturing plants
Construction sites
Warehouses and distribution centers
Dorner's industrial conveyor systems are designed to increase efficiency, improve safety, and reduce costs in your operation.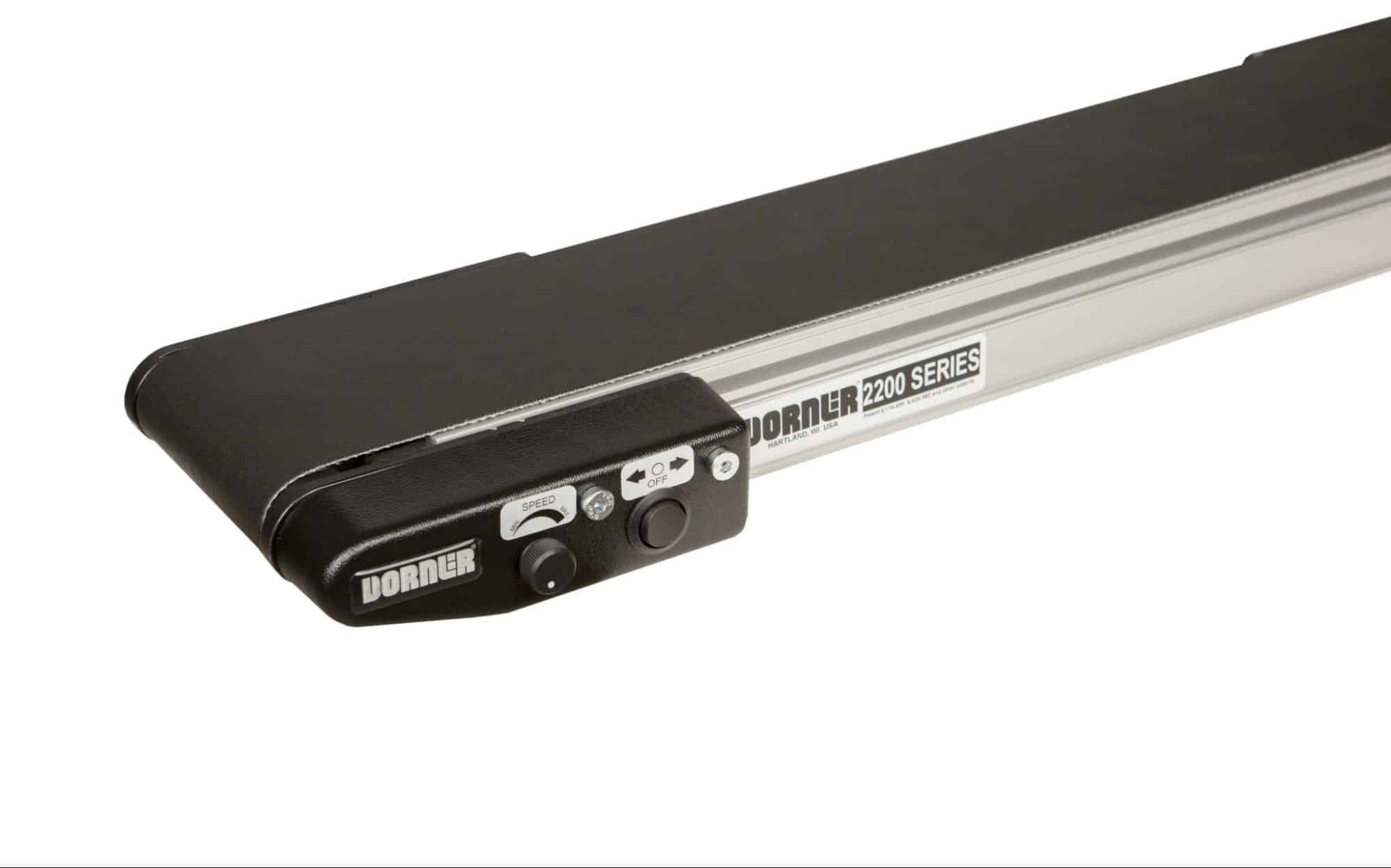 Common Applications of an Industrial Conveyor: Where They Work Best
Depending on the industry, conveyors can provide a variety of advantages. Industrial conveyor belt systems are commonly used to increase safety, efficiency, and productivity in industries such as:
Industrial conveyors are commonly used in the consumer goods industry to increase safety, efficiency, and productivity. Conveyors can be used to move products from one process to another, or to transport products to and from storage. Additionally, conveyors can be used to sort and package products, which can help to improve throughput and minimize the need for strenuous human labor.
In a manufacturing facility, industrial conveyors can be used to transport raw materials as well as finished products. Material handling conveyors can help to improve safety in a facility by eliminating the need for workers to lift and carry heavy materials while also speeding up tedious processes.
When dealing with metal materials, the use of a durable, sturdy industrial conveyor is essential. Metal working conveyors can be used to move metal parts and materials from one step in manufacturing to another, including moving finished parts away from dangerous moving machinery to be safely processed by staff. A heavier duty industrial conveying system from our 3200 series is well-suited for metal working environments. 
The automotive industry is one of the most important industries in the world, and it relies heavily on industrial conveyor systems to improve safety and efficiency. Conveyors help to move heavy and bulky parts quickly and efficiently, which can help to improve safety in the factory and increase productivity. Equipping your system with sensors can also help automate the inspection and quality control processes in a consistent, efficient manner.
Industrial warehouse conveyors can efficiently move goods from one section of the warehouse to another, covering greater distances faster than human workers are able to. Conveyors can also transport goods to and from shipping and receiving, improving efficiency in the warehouse. Additionally, conveyors can be used for sorting and packaging operations, which can help improve throughput and accuracy. 
How Do They Work? Key Industrial Conveyor Parts
Regardless of application and environment, most conveyor systems operate with the same basic components. However, the type of parts and how they work may vary depending on the model and function of the system.
The drive refers to the source of power that allows the conveyor to operate. Most modern conveyor systems use an electric motor, but some conveyor models use manual or gravity-based drives, often through the use of rollers that facilitate the movement of objects when a worker pushes it along the conveyor.
Electric-powered drives like Dorner's iDrive are best suited for industrial applications due to their reliable performance and efficiency. Dorner's iDrive is an internally-mounted motor designed to improve energy efficiency and reduce the conveyor's footprint, providing the power necessary to perform heavy-duty tasks. 
How your conveyor operates is largely dependent on the type of controls it has. You can integrate Dorner industrial conveyors into your automation system to optimize their performance, reducing the need for constant monitoring to free up your workers' time for more involved tasks.
Manual controls may allow for more flexibility if you anticipate frequently needing to stop and start conveying operations for cross-line navigation, inspection, or other activities. 
A conveying system's mode of transfer refers to the way in which it moves materials. The most common and effective modes of transfer for industring conveyors are belts and chains, but you can also find conveyors that move materials with:
Buckets
Cables
Pneumatic controls (with compressed air or vacuums)
Screws or augers
Aero-mechanical controls
Physically, industrial belt conveyors require the right mechanisms to support its structure and functionality, making the frame essential to hold the belts or chains and other essential components.
It is also important that each conveyor system has the correct settings and features to facilitate cleaning, maintenance, inspection, and repairs for the sake of worker safety and proper care.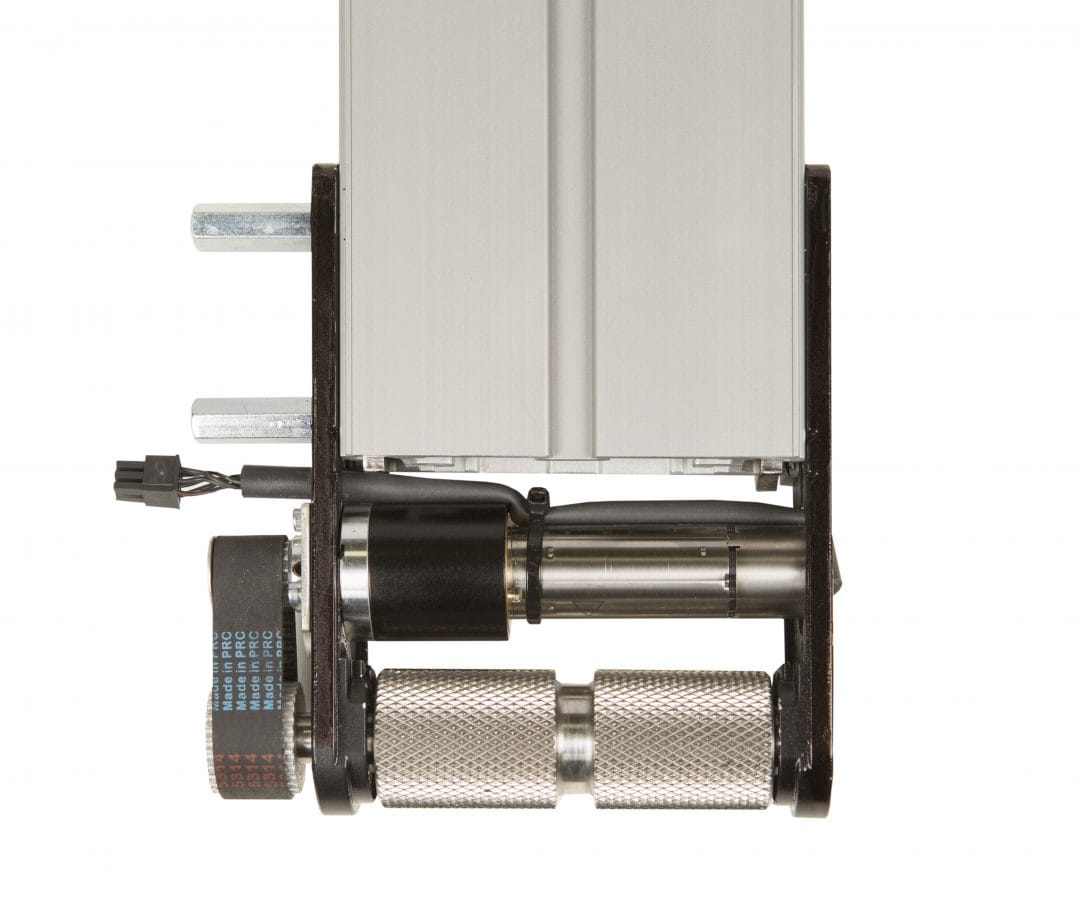 Benefits of Using an Automatic Conveyor for Industrial Automation
Conveyors are an essential piece of equipment in many industrial settings. They offer a number of competitive advantages to facilities regardless of industry, including:
Conveyors can help to improve the efficiency of your facility by reducing the amount of time and labor required to move materials from one location to another. Additionally, conveyors can help to minimize downtime by eliminating the need for workers to stop and start machinery when loading or unloading materials.
Lift gate conveyors from Dorner provide additional benefits, as well, granting easy access to all areas of the floor without requiring workers to navigate around machinery or hinder production times by shutting down belt systems to safely maneuver between lines. 
Conveyors can reduce the amount of time required to move materials, increasing production rates and overall efficiency. Additionally, conveyors can help to reduce the amount of time that raw materials are handled, which can help to minimize wear and tear and extend the life of your equipment. 
Optimized Use of Labor Force
Rather than requiring your workers to manually move materials from one location to another, conveyors can automate this process. This can free up your labor force to handle other valuable tasks that require critical thinking and problem solving skills. Industrial conveyor systems can also help to improve safety by reducing the risk of injuries associated with manual material handling. 
Conveyors can help to move materials quickly and efficiently, which can help to increase the throughput of your facility. Additionally, conveyors can be used in conjunction with other automated equipment to create a production line that moves rapidly and efficiently without detracting from the quality and consistency of your operation. 
Improved Production Quality & Consistency
Conveyors can help to improve the quality and consistency of your production by ensuring that materials are moved evenly and smoothly. Additionally, you can equip your conveyors with sensors that can assist with inspection and quality control so that your workers can take corrective action to prevent errors. 
Conveyors can help to reduce the risk of injuries in your facility by eliminating the need for workers to manually handle materials or interact with running machinery. Additionally, conveyors can be equipped with sensors and safety features that can help to further improve safety in your operation.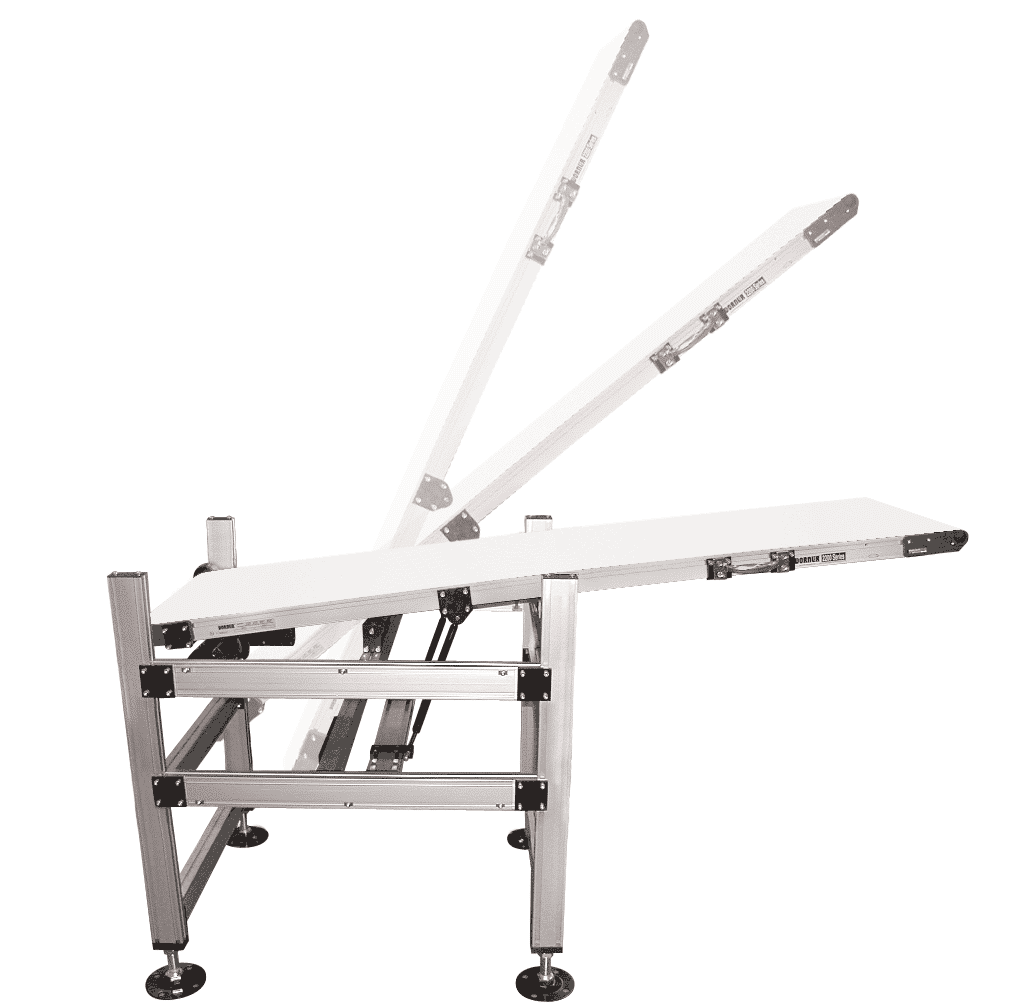 Industrial Conveyor Solutions from Dorner
Dorner is a leading provider of industrial conveyor solutions. We offer a wide range of conveyor systems to meet the needs of your facility. Our conveyors are designed to improve efficiency, optimize safety, and reduce costs.
Some of our innovative conveyor solutions include the following systems: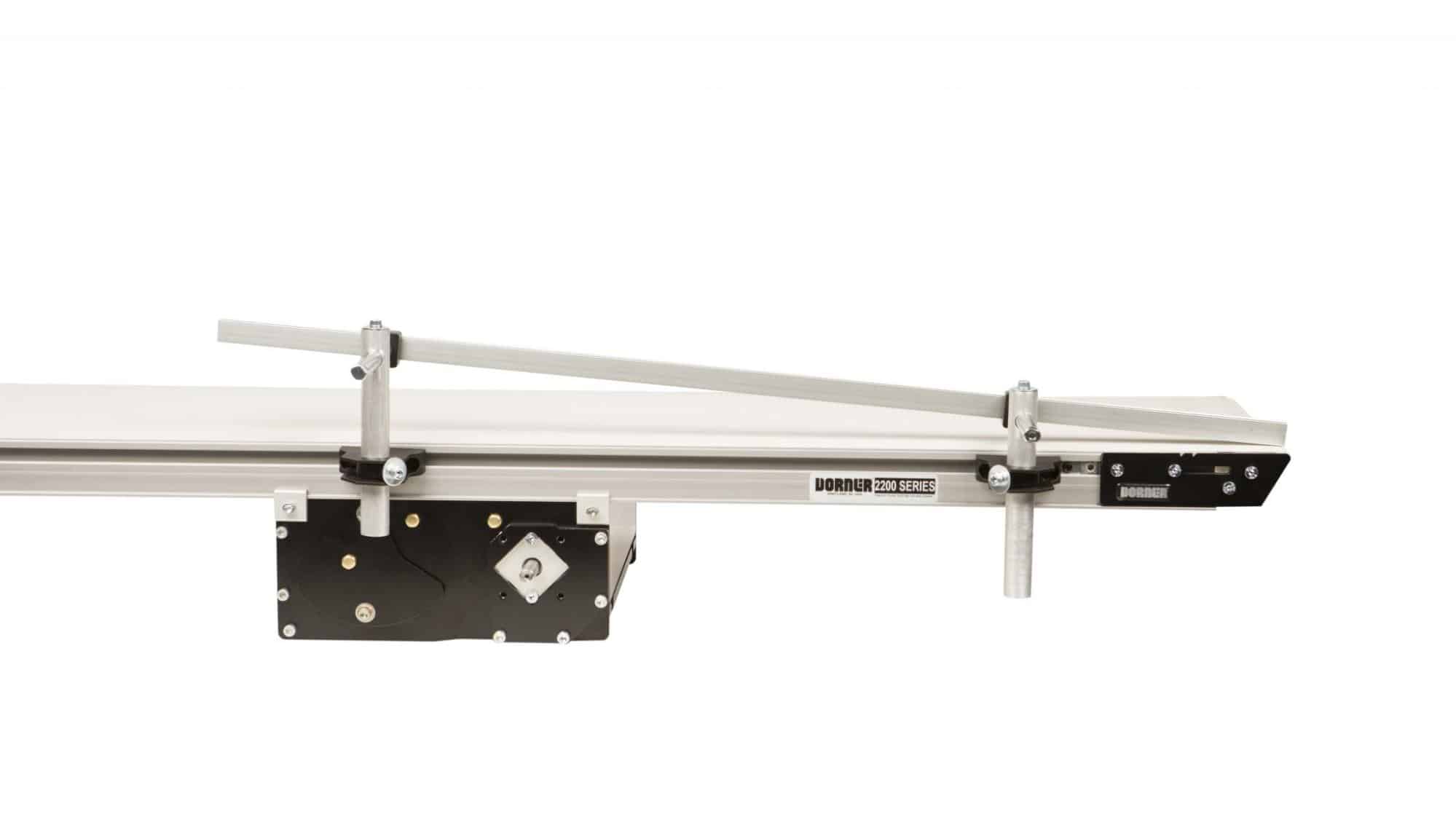 These low profile, high performance fabric and modular belt conveyors are great for industrial conveying along straight paths. Designed to reduce downtime and increase efficiency and accuracy, the 2200 series conveyor system is especially suited for industrial applications like material handling and packaging. 
With extended widths and an increased weight rating from the 2200, the 2700 Medium Duty conveyor is designed for industrial material handling and warehousing applications. The light weight frame and integrated iDrive 2 motor also makes this conveyor a perfect option to be mounted to AGVs for accurate and efficient e-commerce management.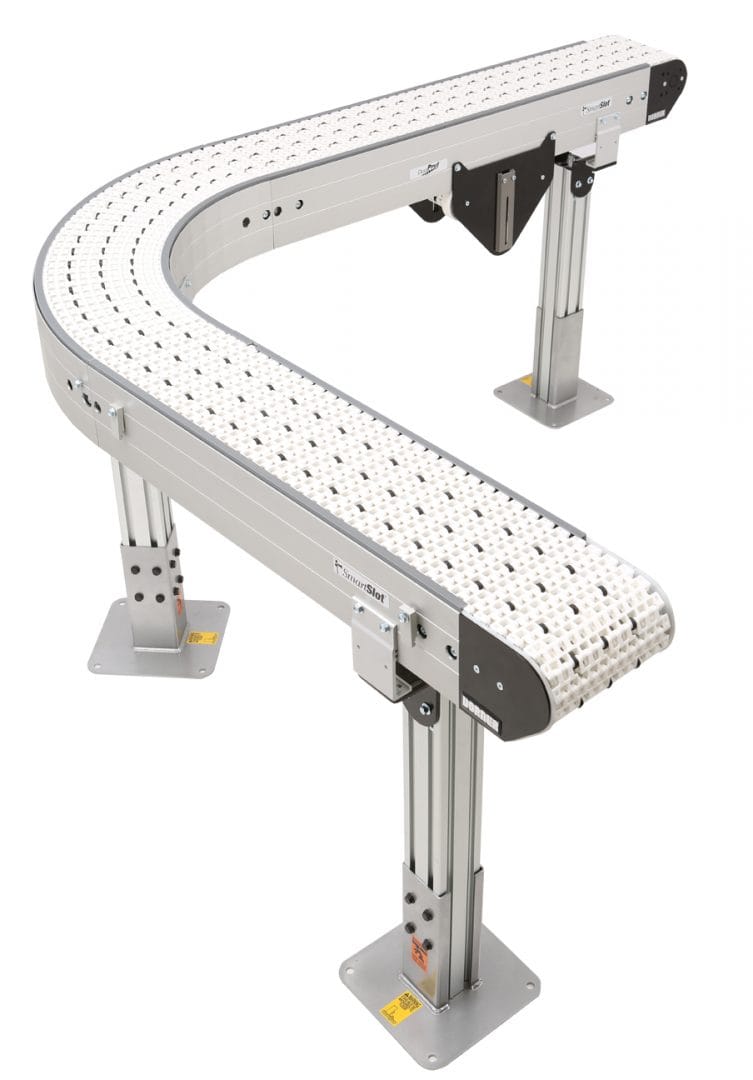 Like the 2200 series, conveyor systems from our 3200 series are built to be low maintenance, efficient, and accurate. Cover longer distances with 3200 conveyor systems for applications like material handling, packaging, parts transfer, and more.
These conveyors are heavier duty systems with a higher weight rating than the 2200 series, suitable for handling larger products in applications like automotive and appliance manufacturing. 
The DCMove Series is a heavy duty, steel-framed conveyor system offering an economic option for industrial applications. The durable design combined with precision belt tracking and accurate product placement makes this conveyor an ideal option for labeling, printing, packaging, and general material handling.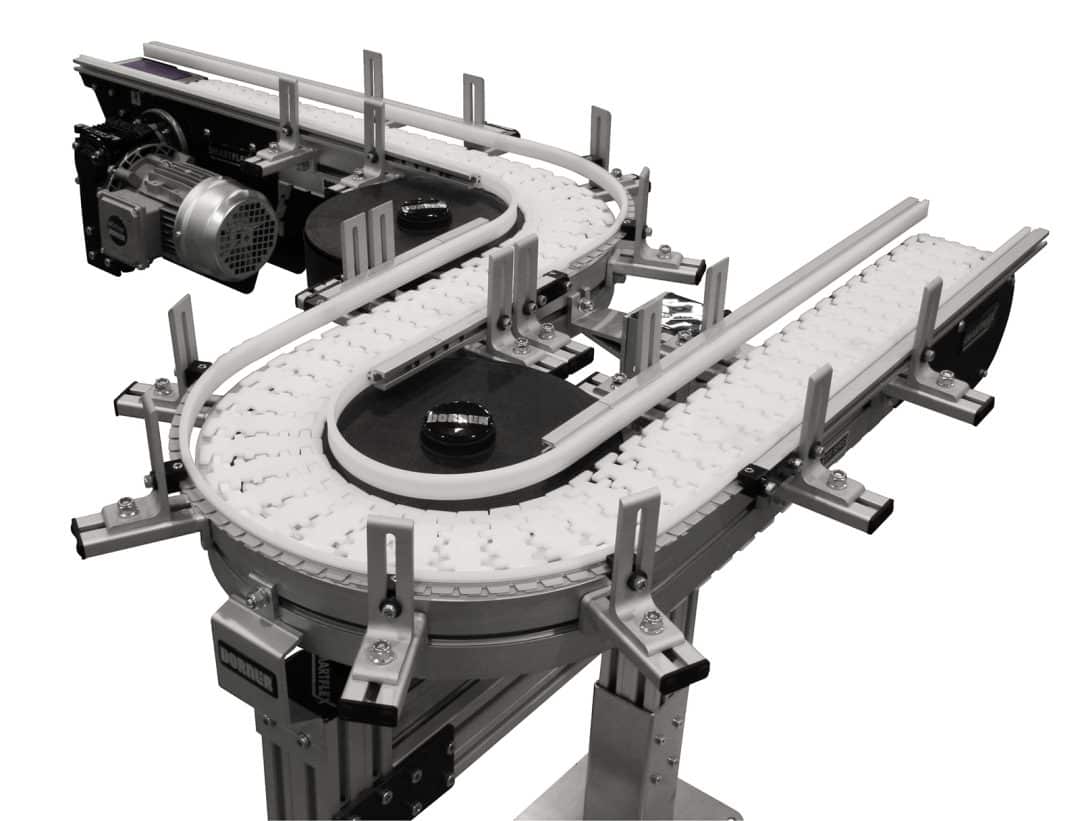 If you are in need of a flexible conveying solution, the FlexMove line offers a high-quality, innovative design that can be customized and configured to your exact needs. Regardless of your industry, FlexMove conveyors are perfect for specialized applications that require a small footprint, including:
Buffering
Accumulation
Sorting
Indexing
Packaging
Inspection
This precision pallet and tray handling conveyor is your industrial conveyor of choice for any cleanroom environment with ISO Class 4 approval. Built for efficiency with zero-contact zone control and an open roller design, the ERT is great for cleanroom applications like inspection, automated assembly, and packaging.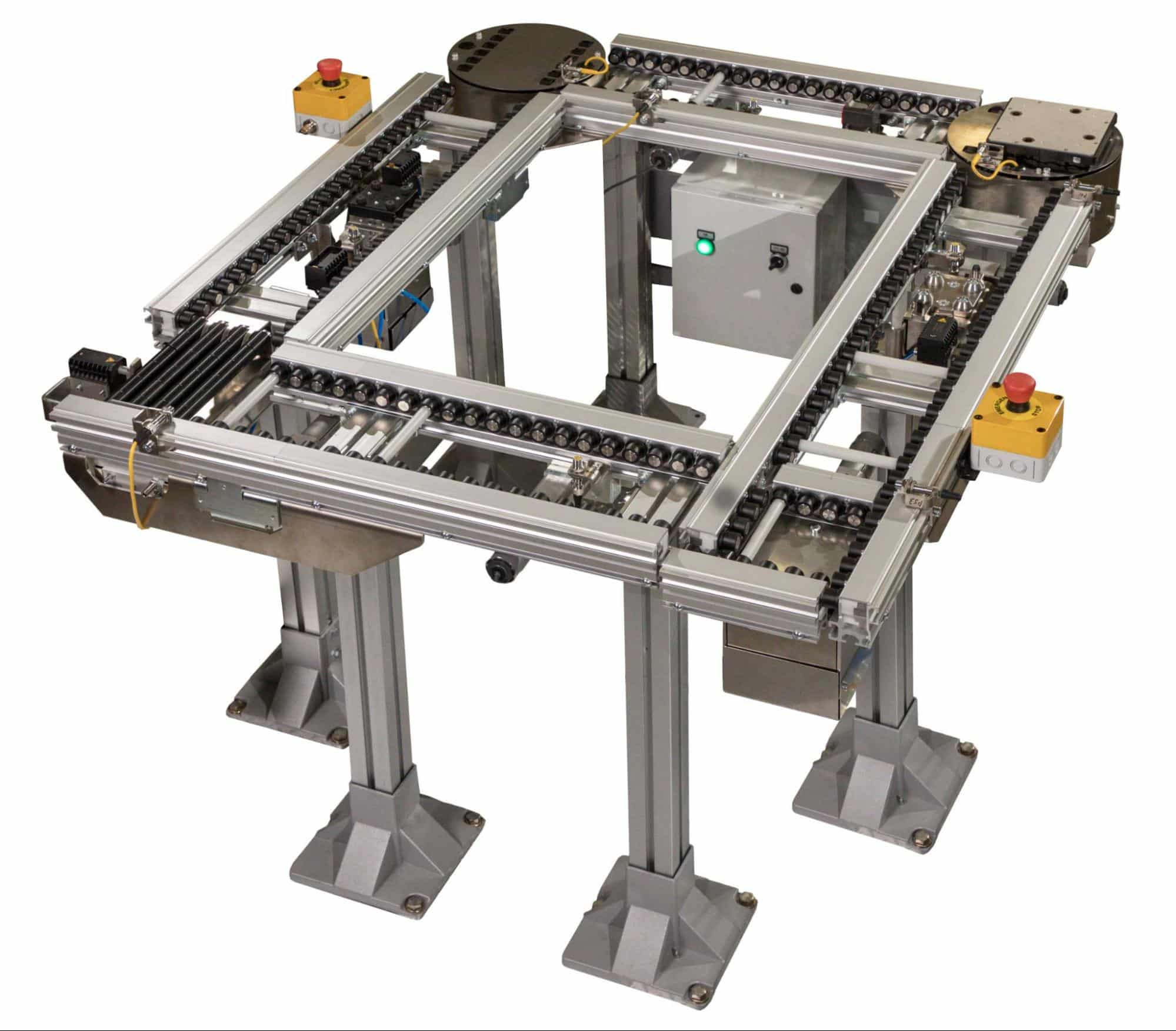 Different Types of Industrial Conveyor Belt
Dorner offers a variety of industrial conveyor belt systems to meet the needs of your facility. Our conveyors are available with a number of different types of belts for your purposes, including: 
The use of chains is suitable for a heavy-duty industrial conveyor, as industrial conveyor chain can withstand heavier loads than fabric belts. For applications like accumulation, as well as systems that require curves, an industrial chain conveyor is often the best option.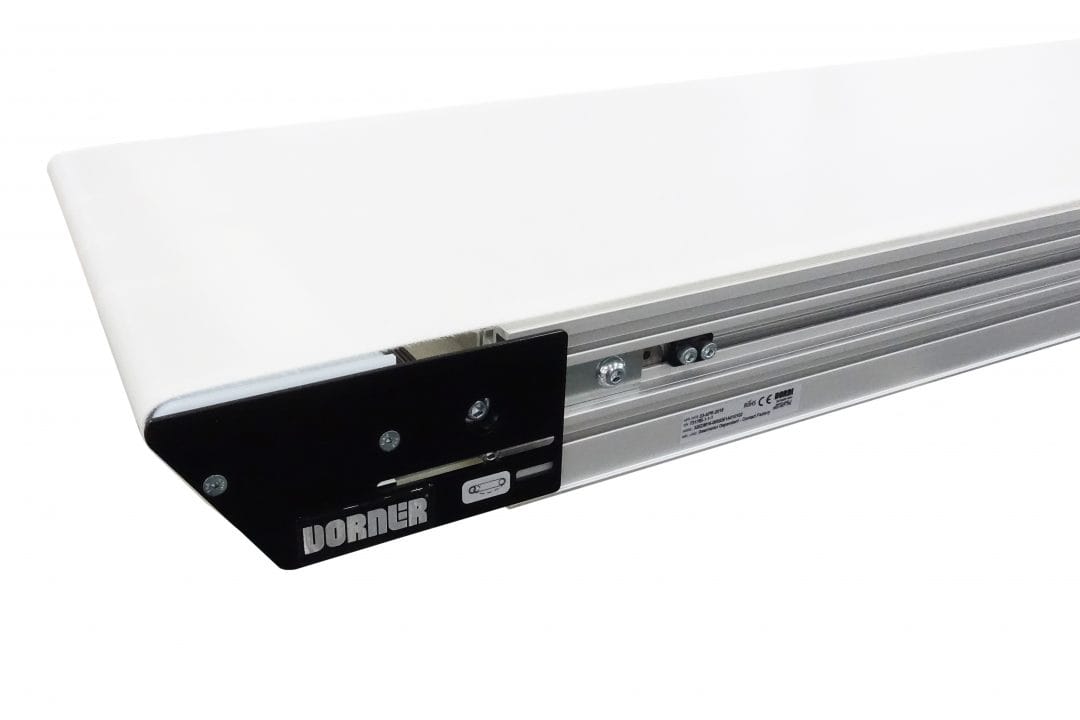 Made with flexible materials that can easily move products along the conveyor, fabric belts are ideal for applications that require precision and accuracy, especially when dealing with small, delicate items.
Fabric belts offer a lot of flexibility in design, with options for different materials (such as nylon, polyester, and thermoplastic urethane) and specialized applications (including magnetic and backlit features). 
Rubber is a popular material for conveyor systems largely due to its flexibility and resistance to corrosion. In industrial applications, an industrial rubber conveyor belt is a popular choice for handling raw materials that could generate debris or be dangerous to handle manually.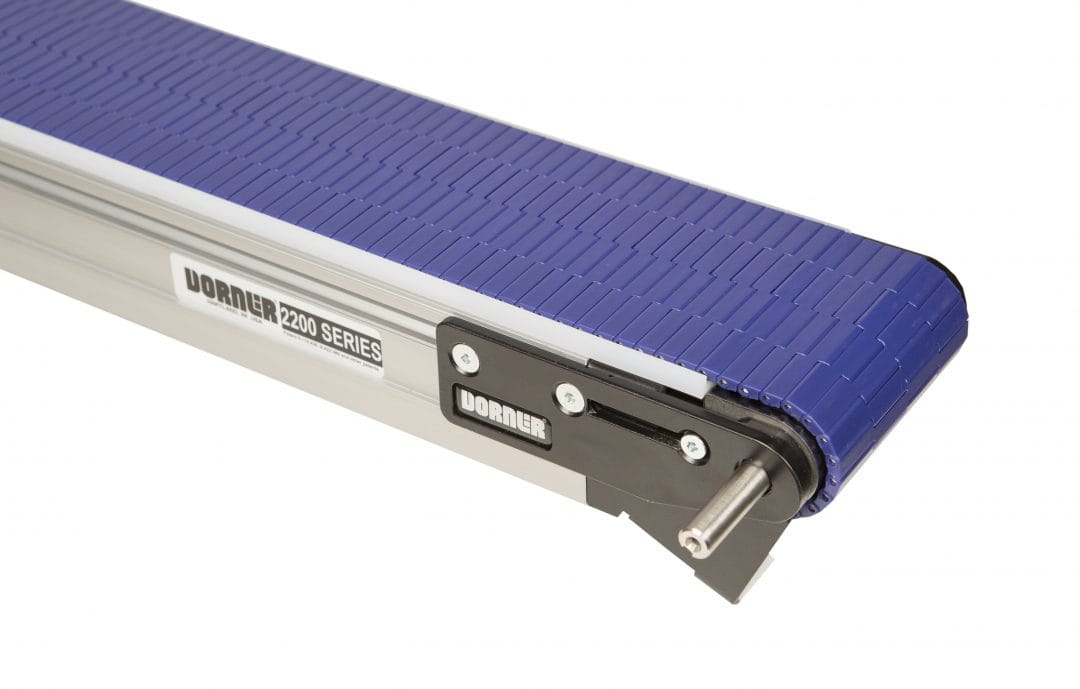 Our modular conveyor belts offer the most flexibility to help maximize efficiency and productivity in your operation. Customizable, versatile, and durable, modular plastic belts are easy to clean, maintain, and repair, making them suitable for a number of applications including manufacturing and cleanroom environments.
Our 2200 and 3200 series feature modular belt options to suit your needs. 
How to Choose the Right Industrial Conveyor for Your Business
When choosing an industrial conveyor for your business, it is important to consider the needs of your operation. Some factors you may want to consider include:
When choosing an industrial conveyor for your business, it is important to consider the type, weight, and size of the products you want to convey. This will help you to choose a conveyor that is best suited for your needs. If you need to move bulkier objects, you will need to choose a heavier-duty conveyor like the 3200 series. For more delicate projects, a modular conveyor like from the 2200 series will serve you well.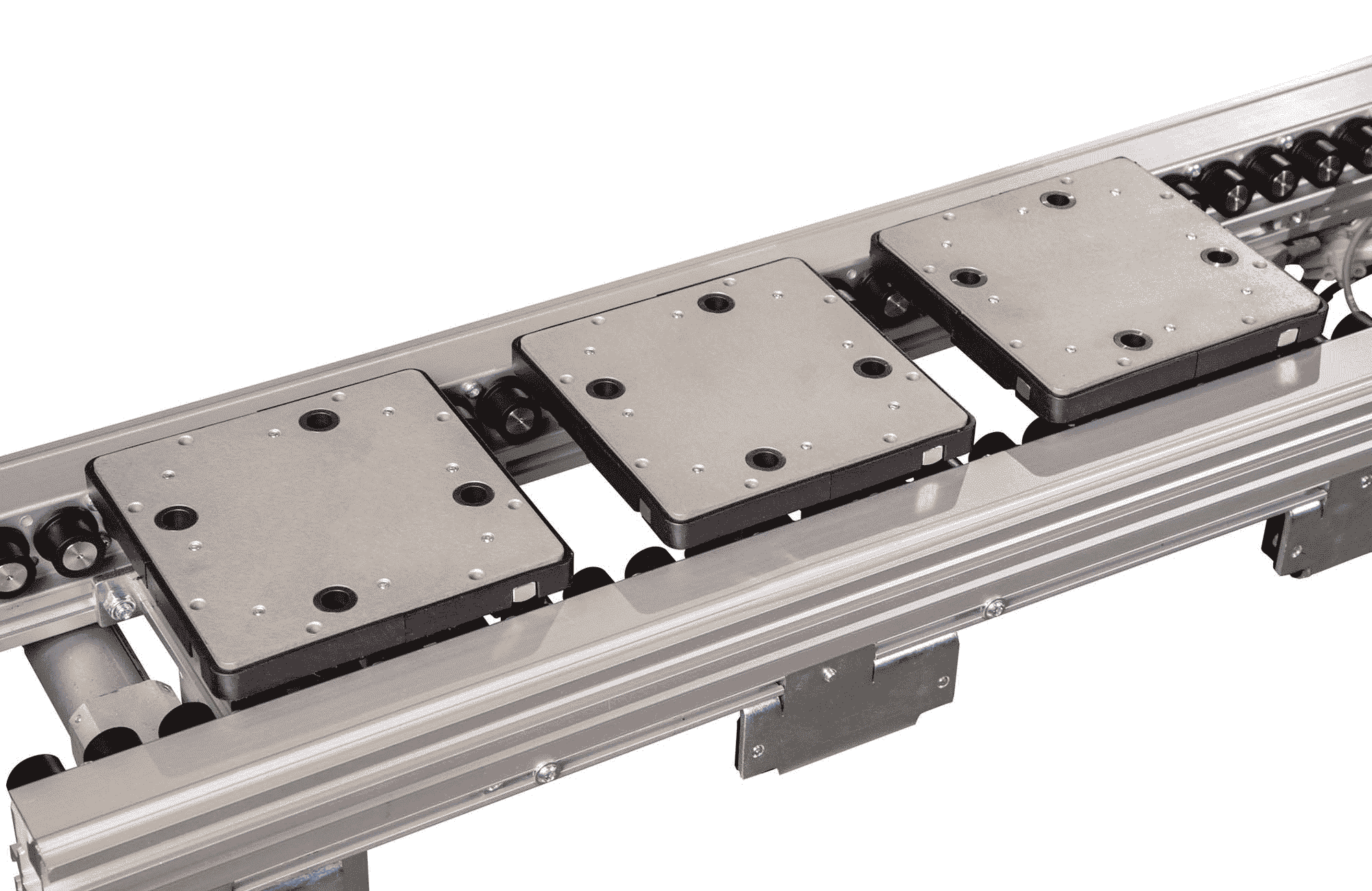 The environment in which your new conveyor will be installed will influence your decision, as well. In a dust-free facility or clean room operation, for example you need to choose a conveyor system that is easy to clean and maintain, such as the ERT150.
How you intend to use your new conveyor will also impact the system you choose. In any industry, conveyors can be used for a number of purposes, including:
To move materials from one point to another
To sort or separate materials
To package or palletize products
To inspect or test products
Depending on your intended use, you will need to choose a conveyor that is capable of performing that function. Additionally, your desired speed of operation and the frequency with which you need to use your conveyor will also impact your decision.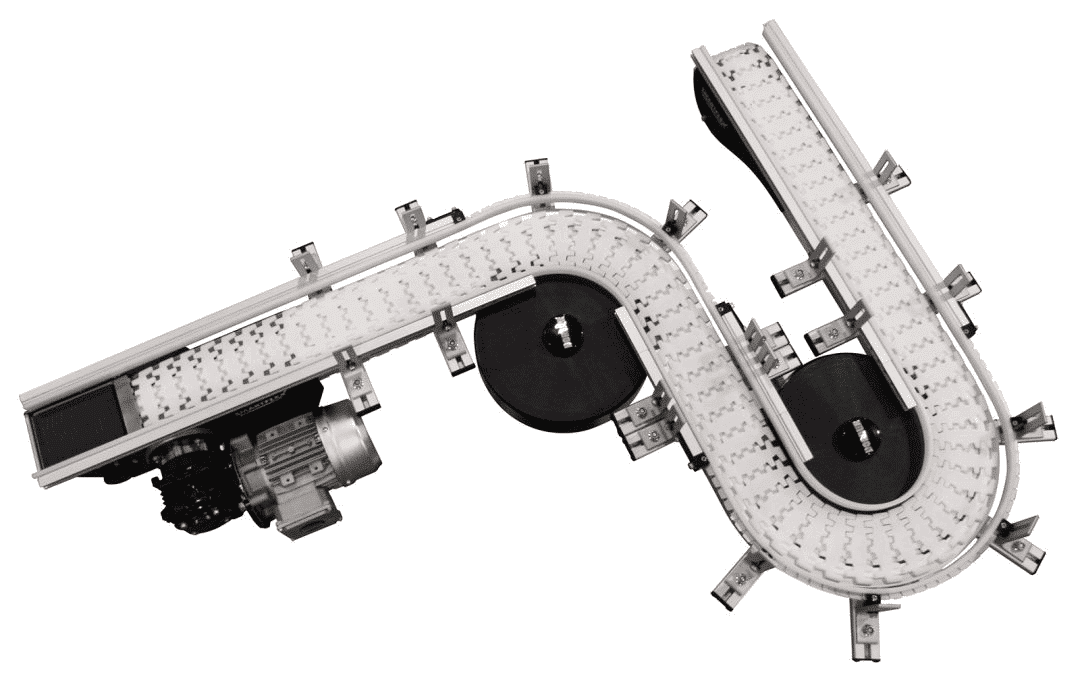 If you have limited space in your facility, you need to choose a conveyor that can be installed in a small footprint. The FlexMove conveyor is designed for just this purpose. With its small footprint and modular design, it can be configured to fit in even the most space-constrained facilities.
In addition to the space you have available, you need to consider the practicality of introducing a conveyor system regarding its length, configuration, and pathways.
What is the path that you want your product to take? Do you need a conveyor that can turn corners or one that moves in a straight line? How long does the conveyor need to be for optimal functionality? Answering these questions will help you to choose the right conveyor for your business. 
Another important consideration when choosing an industrial conveyor is the level of automation you need. If you have a highly automated operation, you will need to choose a conveyor that can be integrated into your existing systems.
The level of labor required to operate and maintain your new conveyor system is also an important consideration. You need to choose a system that is easy to maintain and that can be operated safely by your employees.
Additionally, you may want to consider a conveyor that offers some degree of flexibility, like the FlexMove, so that it can be easily reconfigured as your needs change. 
Of course, cost is always a factor to consider when choosing any type of equipment for your business. You need to balance the initial investment with the long-term operating costs to choose a conveyor that is right for your budget. 
Enhance the Safety and Efficiency of Your Facility With Industrial Conveyor Systems from Dorner
As one of the leading industrial conveyor manufacturers, Dorner can help you enhance the safety and efficiency of your facility. With our innovative conveyor systems, we can optimize your production process to improve your bottom line.
We can also engineer custom conveyor systems to meet your unique application needs.
Contact us today to learn more about our industrial conveyor solutions and how we can help you achieve your business goals.