Engineered Solutions
Retractable Conveyors
Dorner's retractable conveyors are prized for their remarkable ability to enhance system flexibility. Retractable conveyors, also known as retracting conveyors and retractable tails, are conveyor frames that can retract, or extend, manually or pneumatically and typically on slides or rails. This function can happen infrequently with low accuracy or reoccur every few seconds with precision.
Dorner, the conveyor industry's leading retractable conveyor manufacturer, offers options for industrial and sanitary environments. Businesses globally benefit from using Dorner's top-tier retracting conveyors, which help their teams be more productive and efficient with less downtime and improved safety.
Uses for Retracting Conveyors
Retractable conveyor tails can be used in a variety of ways.
Some of these major uses include:
Retractable conveyors can reject contaminated or otherwise unsellable products. Not all products are fit to be sold. Products can be rejected by sight for reasons such as irregularities or deformities. Products may also fail a safety test such as by metal detection.
A retracting tail allows the rejected product to drop onto another conveyor or into a bin to be discarded.
Retractable conveyors can also deposit products onto another conveyor or tray. This can be done in a precise, exact layout such as by rows or columns or by simply dropping product.
A retracting conveyor can be used to route products to multiple lines. One retractable conveyor solution Dorner custom-built for a customer enabled product to be routed down a conveyor and then dropped onto one of three lines, depending on how far the conveyor was extended.
Dorner's retractable tails can also be used for stacking. In one case, we built a high-speed retractable conveyor for a customer needing to stack sheets of thin extruded food product. Once the product reached the end of the conveyor, a sensor triggers the tail to retract 36 inches in just 0.6 seconds, enabling the product to fall on a car under the retracting tail.
Next, for this custom-made retractable conveyor, a robot places a plastic sheet on top of the product to separate layers. Once the robot backs away, the tail extends back in 0.6 seconds in waiting for the next product. This entire process is repeated every 3 seconds in stacking the product. This solution has saved the customer a significant amount of money and time as the business had been handing the stacking process manually.
Retractable conveyors can also be utilized in walk-through applications in which a business requires quick and easy access to the opposite side of a line in cases in which machinery blocks access. This provides a safer option than trying to move under or over equipment.
Another option you may consider to create a walk-through for your team is a lift gate conveyor.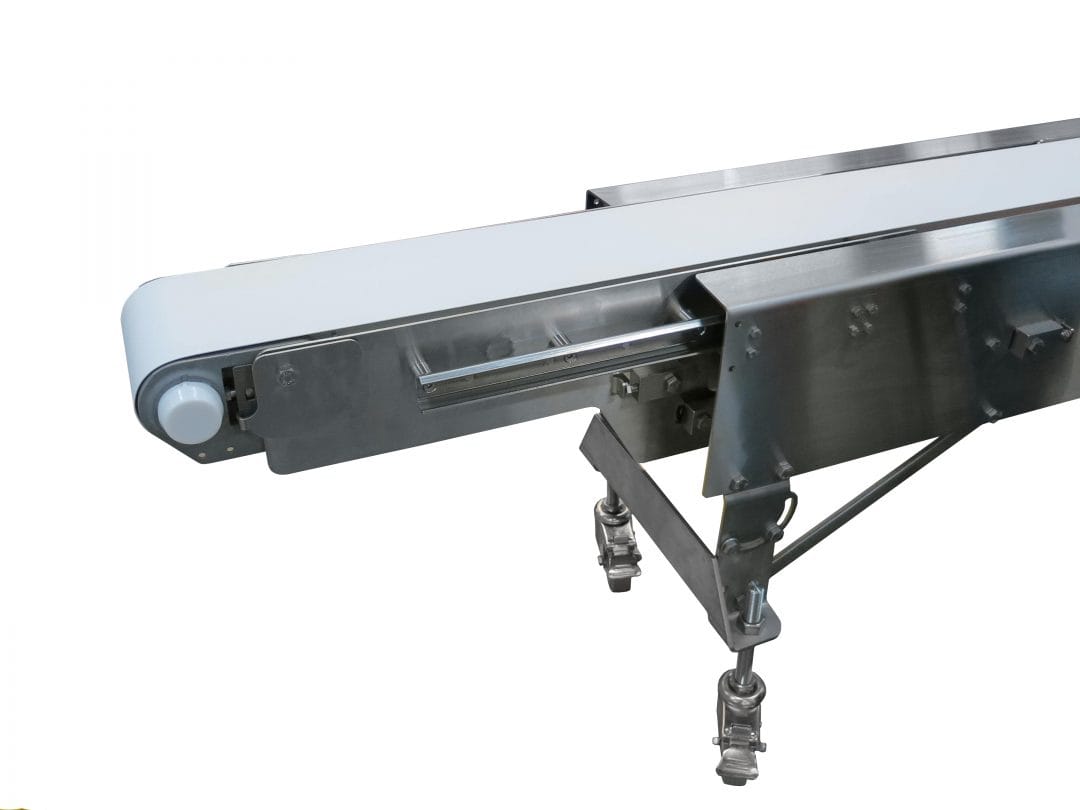 Dorner's Retractable Conveyors Can Promote Increased Safety, Efficiency and Productivity
Dorner's retractable conveyors can provide increased safety to your teams. These retractable tails can decrease your production line's footprint by eliminating the need to design around traffic patterns. The result is a safer environment because employees will no longer have to move under or over equipment when navigating your facility.
Dorner's retractable conveyors are custom-designed and built for each specific application and product with the goal of ensuring your business maximizes efficiency and productivity. Retracts can have multiple drop zones and can occur infrequently or reoccur every few seconds with precision.
Activation options that may be beneficial for your facility's usage include sensors, push buttons and manual retraction. Additionally, beyond providing considerable speed gains over manual production, these conveyor systems can be cleaned quickly and easily.
Retractable Tails Vs. Retractable Conveyors
The terms retractable tails and retractable conveyors are used interchangeably. Other terms used to describe this kind of conveyor are retracting conveyors and retracting nosebar conveyors.
Dorner does not offer kaleidoscoping gravity conveyors and truck loaders.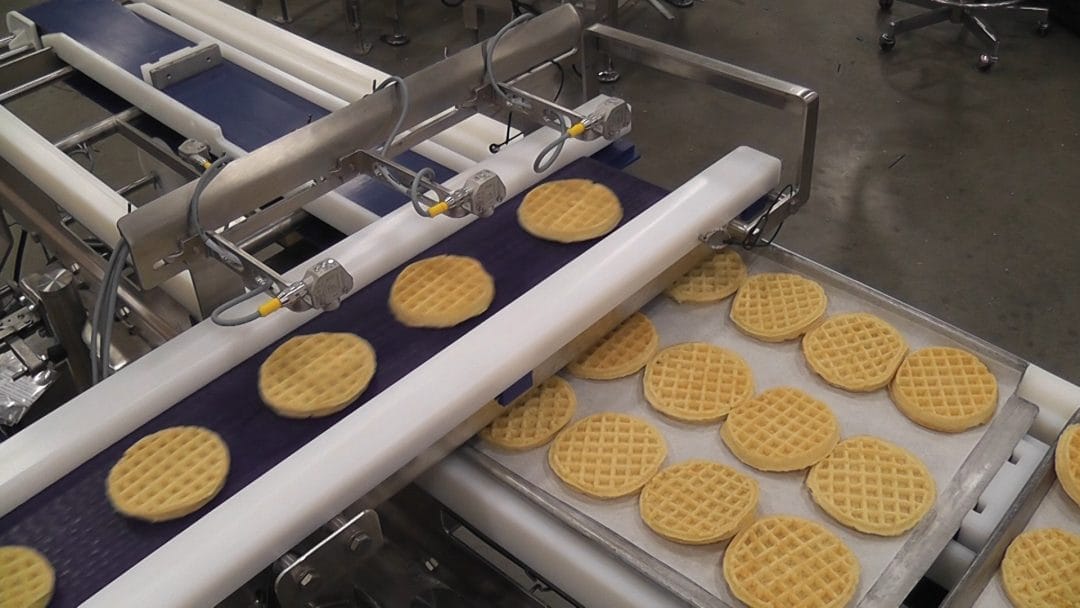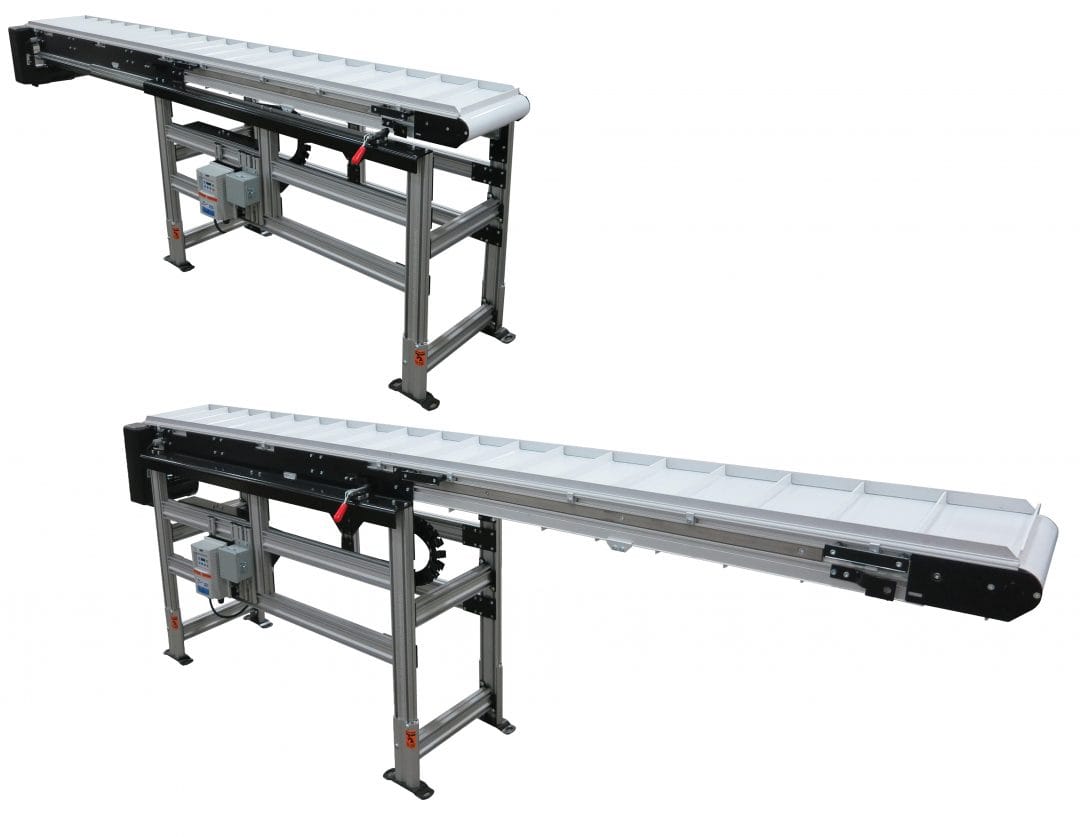 Industries That Use Retractable Conveyors
Retractable conveyors are widely used in many industries such as the food industry and manufacturing industry.
Dorner helped one customer improve the efficiency of its food production line. Product had been moving along a conveyor and needed to be put onto trays before being moved into an oven for baking. This business had relied on two employees to lift product off the conveyor, placing them onto trays, with two other employees bringing over empty trays and filling them with product.
Dorner's retractable tail solution significantly expedited the process by placing product directly on the trays. Dorner's AquaPruf 7400 series conveyor, equipped with three sensors, detected product on the conveyor belt. This sanitary conveyor can be disassembled for cleaning in mere minutes.
Additionally, an AquaPruf 7600 series conveyor is utilized in conveying the baking trays. Sensors are used to identify the conveyor belt's cleat. This conveyor is also built for simple sanitation.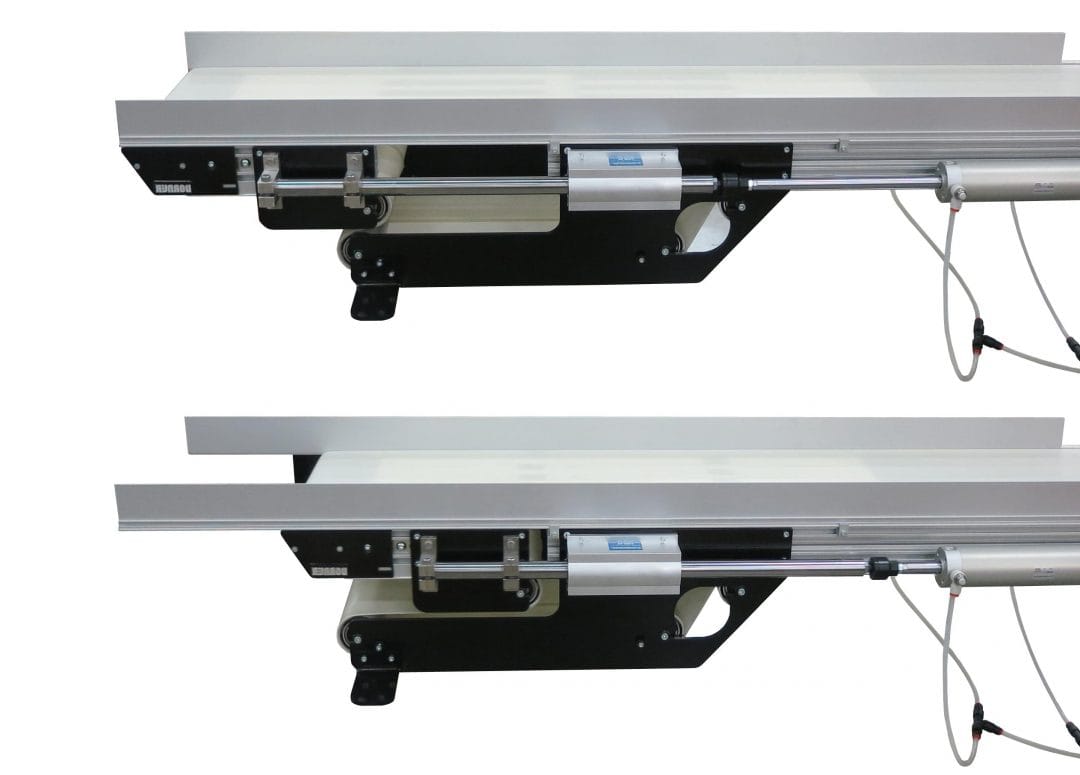 Dorner's retractable conveyors can also be used to sort metal, for example, making them valuable additions to manufacturing facilities. A retractable tail can help plants sort out saleable goods and goods that should be discarded for cosmetic, weight or other reasons.