Engineered Solutions
Metal Detection & Metal-Free Zone Conveyors
Safety is a key concern for industries such as food packaging, making it crucial to use the right equipment to ensure that food inspection is completed to the highest standard. Dorner offers metal free zone conveyors for food inspection. To do this, we offer conveyors that can be integrated with a metal detector. This type of equipment can make certain that the food on the line is safe and free from metal and other foreign objects that may cause contamination. A metal detector and conveyor can help protect your products and customers.
How are Conveyors and Metal Free Zones Used?
Conveyors and metal free zones are used in industrial food inspection and food packaging to ensure that all food on the line is sanitary and safe from contamination. Metal free conveyors are used in the manufacturing and packaging industry for transfers in through and out of:
metal detectors
metal free zones
rejection systems
lockable reject bins
networking interfaces for real-time performance information
What Role Do Conveyors, Metal Detection, and Metal Free Zones Play in the Food Manufacturing Process?
Conveyors and metal free zones are crucial for this purpose as they can keep out metal and other foreign objects, ensuring the safety of food items. Conveyors are part of sanitation equipment and offer reliable inspection. Our conveyors can easily fit with other equipment and reject mechanisms as needed to create a seamless food packaging and inspection process.
What Is a Metal Free Zone in Metal Detection?
A metal free zone is an area surrounding the industrial or sanitary conveyor where no metal is present. In order to prevent false alarms and detections, no fixed or moving metal is kept near the metal detector's aperture to ensure optimum detection and prevent false results during the inspection process.
Metal-Free Zone Specifications
Our metal-free zone specifications include:
Engineered plastic metal free mid-section to install a metal detector
The size of the zone is determined by the metal detection unit being integrated
Metal detector must be specified and acquired separately
Reference the conveyor specification sheet for additional details and specifications
How Conveyors and Metal Free Zones Simplify Product Inspection
Conveyors are invaluable during the product inspection process because of the automation and accuracy they offer. When paired with a metal free zone, conveyors can initiate reject mechanisms as needed, creating a more streamlined inspection process. The automation of metal detection is necessary for high-quality food inspection that meets the standards needed and protects the integrity of food packaging options.
Dorner's Industrial Conveyor Options
for Metal Free Zones
Dorner offers a variety of conveyors and industrial metal free zone options to accommodate different processes within the food manufacturing industry and more.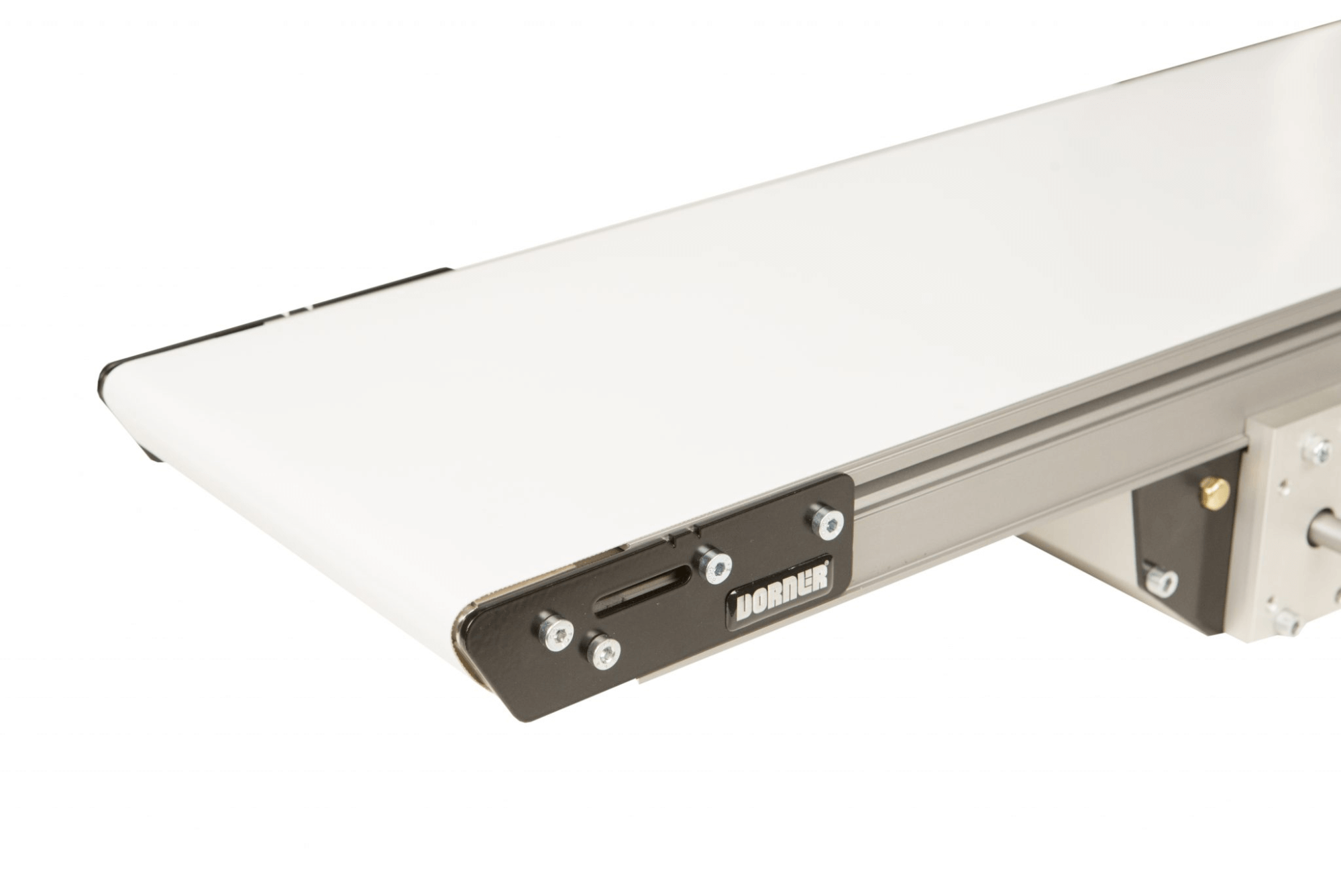 The 2200 Series is a low profile, high-performance fabric, and modular belt conveyor. It features a high-speed nose bar transfer option, a durable single piece frame design, universal T-slots, and a wide range of belting and guiding options. 
The 2200 Series is best used for small and medium part handling and is designed specifically to improve efficiency, reduce downtime, and increase accuracy during the metal detection process.
Features of the 2200 Series
Our v-guiding provides positive belt tracking, even under the most demanding side load applications.
Precise rack and pinion belt tensioning
Bearings that are sealed for life
The 3200 Series are available as a belted, modular belt or precision move conveyor. Dorner's online configurator engineers simple or complex conveyors to meet your needs in minutes, allowing you to customize for operations as needed quickly and effectively.
The 3200 Series is effective due to its fast speed, reliability, belt tracking, and other features that help make food inspection a quick and seamless process.
Features of the 3200 Series
V-guiding that stands up under tough conditions
Modular belts and spliced standard belts allow for quick belt changing, reducing downtime.
Precise rack and pinion belt tensioning
Sealed for life bearings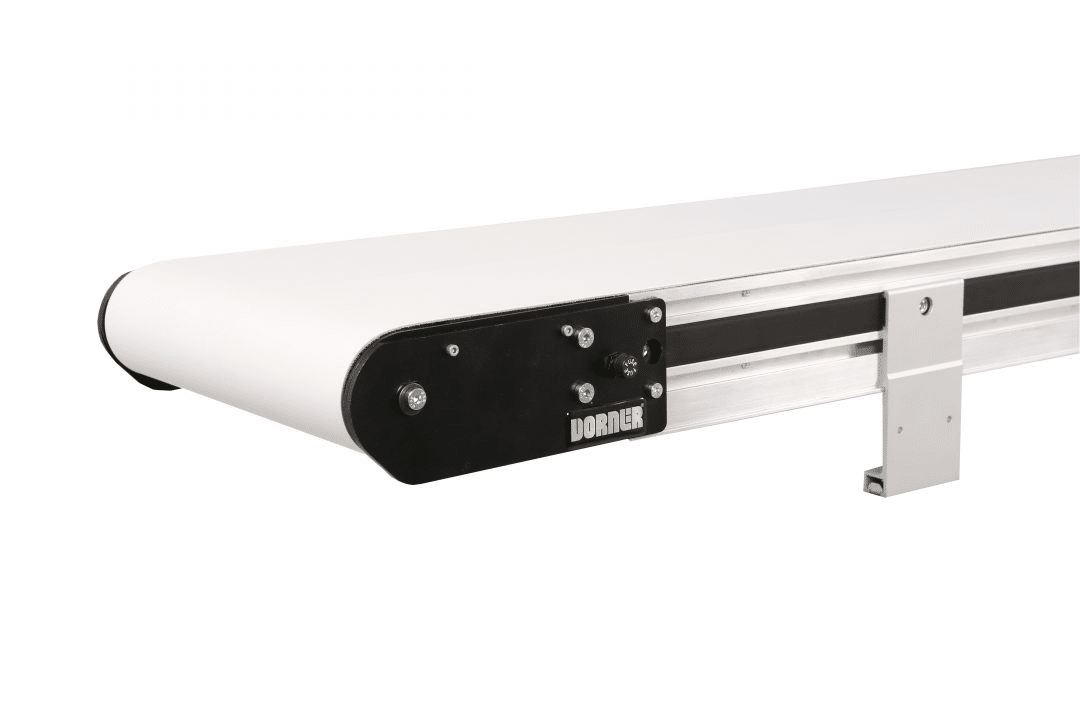 Dorner's Sanitary Metal Free Zone Conveyor Options
Sanitary conveyor options are crucial in the food production process to protect the integrity of the items and prevent contamination. Dorner offers a range of sanitary metal-free zone conveyors to ensure food production and inspection can be completed quickly and efficiently.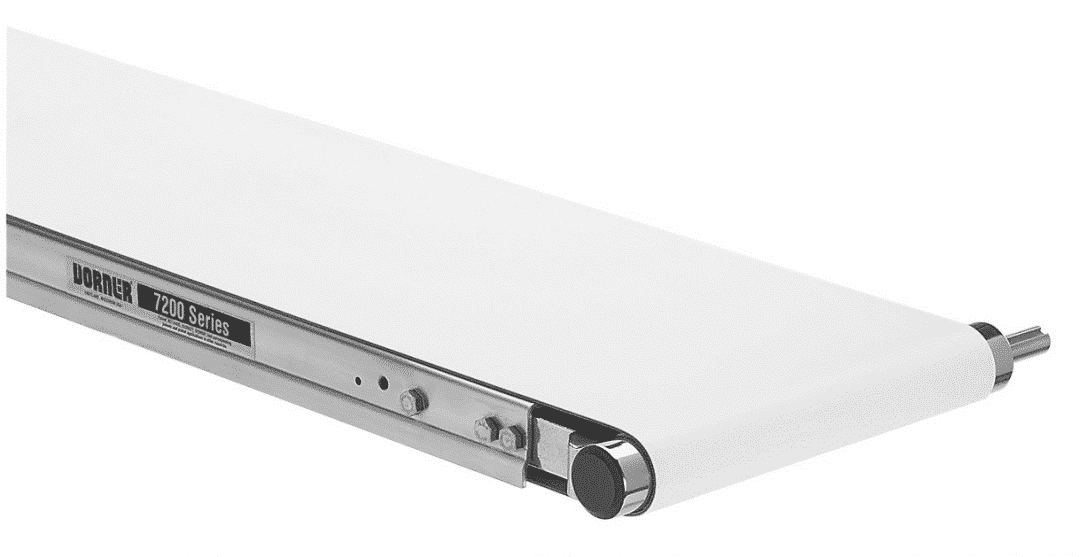 The AquaGard metal free zone conveyors are specially designed and manufactured for the food packaging industry and feature a rugged and durable design and additional sanitary features.
The AquaGard conveyors are designed for wipe down and low-pressure wash-down with non-caustic chemicals. The 304 Stainless Steel frame features an open design with minimal horizontal surfaces to ensure reliable metal detection. 
Features of the AquaGard Series
Belted, cleated belt, modular belt, modular cleated belt models, and positive drive options
Loads up to 341 kg (750 lbs)
Widths: 152 mm (6 in) to 914 mm (36 in)
Lengths: 914 mm (3 ft) to 25000 mm (82 ft)
FDA approved belting and plastic components
304 stainless steel frame
Available in straights, curves, or Z-Frame configurations
Options include:

Nose bar transfers
Powered and roller transfers
Variety of guiding
Chutes, drip pans, hoppers and more
The AquaPruf conveyors by Dorner feature specific designs that are crucial for food packaging and inspection. AquaPruf sanitary conveyors are engineered to promote hygienic design while meeting the sanitary standards of the Baking Industry Sanitary Standards Committee (BISSC), National Sanitation Foundation (NSF), 3A, USDA, and other FDA regulations. 
The AquaPruf series features fast and effective metal detection while adhering to key food safety standards. In addition, the AquaPruf features high-pressure sanitation and quick dismantling and assembly for effective cleaning.
Features of the AquaPruf Series
Continuous TIG welded 304 stainless steel frame with #4 Polish on all outside surfaces
FDA approved belting, lubricant and plastic components
Frame is designed with no horizontal surfaces for optimum cleaning
Tip-up tail, optional frame cut-outs and optional belt lifters allow for fast and effective sanitation
Designed to withstand high-pressure (100-1,500 psi) spray and chlorinated solutions.
Features tool-less disassembly/assembly for cleaning of parts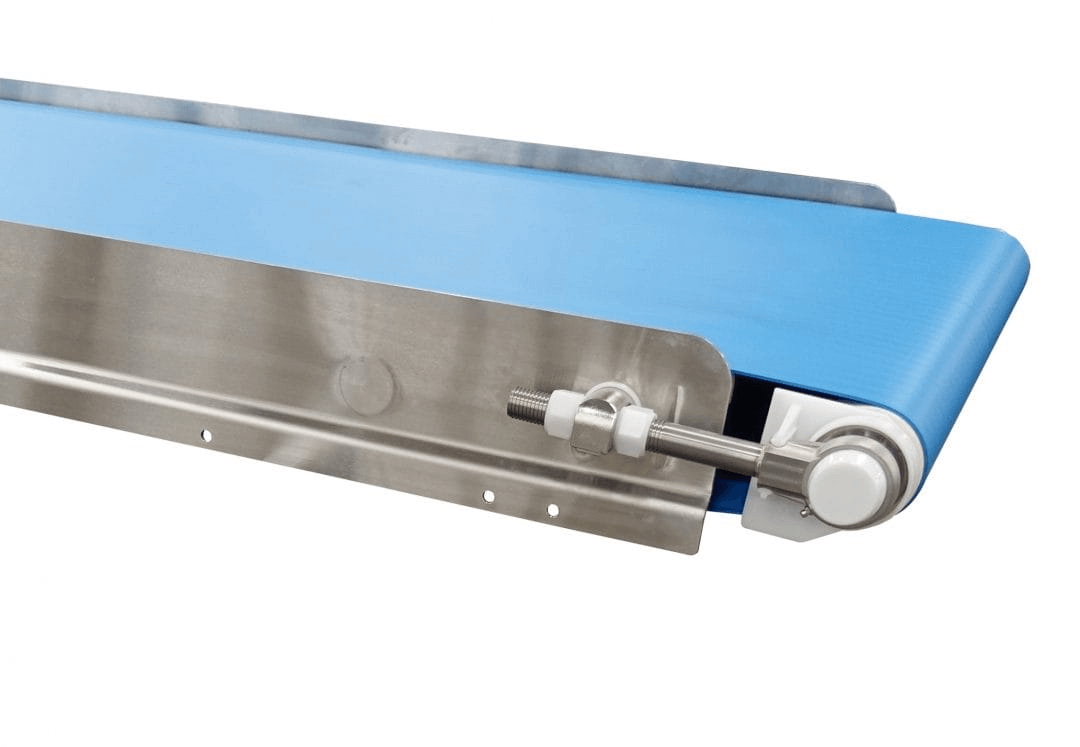 Available Metal Detection Options and Accessories
Dorner can meet safety and manufacturing standards quickly and efficiently, and there are many different options and accessories available. This includes standard support stands and guiding options, and multiple belt options. Our conveyors are also available with series standard mounting packages and gearmotors.
Applications of Conveyors and Metal Free Zones
Our accumulation conveyors are designed to satisfy the needs of our customers requiring a solution for handling overflow, buffering items, merging lines and more.
Conveyors can be used to enable multiple lines together as preparation for production phases, ensuring quick sorting and diverting of parts where needed.
Merge product in a single processing line or multiple, boosting productivity and lowering downtime across production phases.
Control the continuous flow of products through the line to increase efficiency during the production phase.
Conveyors can be used to transport products from one workstation to another in assembly lines and packaging stations for different products and applications.
Dorner creates high-quality custom conveying systems to accommodate different manufacturing needs. In addition, Dorner offers a wide variety of custom-built integrated conveyor solutions and controls to suit business needs and workflows to reduce waste and increase productivity.
What to Consider When Choosing a Conveyor for a Metal Free Zone
When deciding on a conveyor and metal free zone, there are a few different factors that need to be a consideration during the evaluation process. Your equipment needs to work quickly, spot contamination and offer multiple product disposal methods to add value to food packaging and inspection processes. Here are some of the key aspects of a conveyor and metal free zone that you should know to select the best option for your business.
Food inspection adheres to high standards and regulatory bodies, which is why sanitation features are vital. Having sanitation measures available in the conveyors makes it faster and easier to continually clean surfaces, monitor flagged products, and remove as needed to ensure that lines are running efficiently.
The aperture size must match the product specifications to scan the products correctly for metal detection. Aperture sizes tend to be 8 inches high by 14 inches wide, but customizations are available depending on business needs.
When the system detects metal or a foreign object, there needs to be a reject mechanism to remove the product from the line before further contamination can occur.
Multiple types of reject mechanisms are available, including push-on-detect, air blast, and diverter arms to remove questionable products from the line. 
A pusher mechanism is mounted to the side of the conveyor and is actuated when the metal detector flags a product that must be rejected. The 'push' is timed to match product flow so that when the product in question arrives at the pusher, it can remove it from the line and dispose of it.
The air blast reject mechanism removes flagged products through a blast of air rather than a pusher mechanism. The air blast is best used for lightweight products that do not need as much force to be removed from the line.
A diverter arm swings out across the width of the conveyor belt to remove flagged products from the line and dispose of them. It is best used for bulk products as it can remove a section of the product when the arm is activated, and therefore can remove more.
Frequently Asked Questions About Metal Detection and Conveyors