Applications
Custom Conveyor Systems
Beyond offering the world's largest and leading line of standard conveyors, Dorner also manufactures modified standard conveyors and complete custom conveyor systems. Our custom conveyor systems are designed to meet the needs of our customers requiring specially made conveyor solutions to achieve optimal efficiency and productivity in their businesses.
With Dorner, you'll have access to a wide variety of custom-built integrated conveyor solutions and controls to automate and optimize your business' processes. On top of realizing these improvements, imagine your business reducing waste and facing less downtime with Dorner's high-tech solutions in place.
Having conveyor solutions that are molded for your business' exact workflow is critical. Your production line's performance affects your bottom line. With custom-designed conveyor systems in place, your products will be processed faster, your services will be delivered faster and your profits will increase by embracing our highly specialized engineering technology.
Dorner's state-of-the-art manufacturing facility enables us to build custom conveyor systems quickly and cost effectively. In fact, Dorner is unrivaled in the delivery speed of custom conveyor systems.
Dorner also offers start-to-finish installation and training services along with maintenance planning for your custom conveyor systems.
Discover How Dorner Is Transforming Conveyor Automation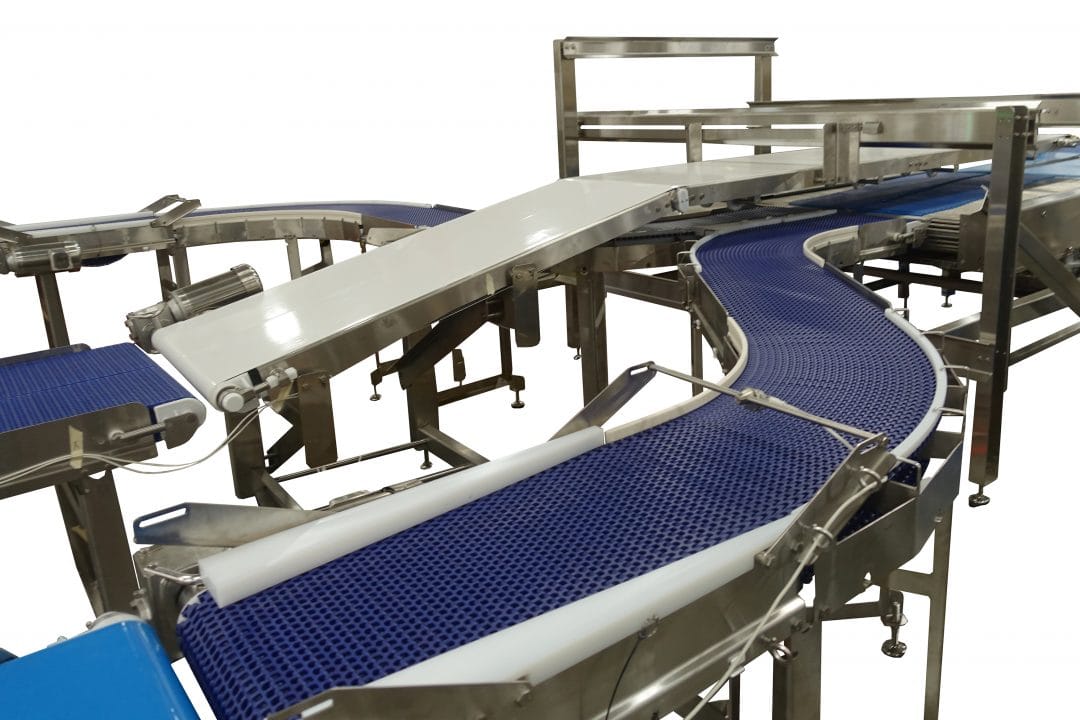 Dorner's Engineered Solutions Group Is a Full-Service Team Offering Whole-Scope Services
Dorner's custom conveyor systems are developed by our Engineered Solutions Group. This is a full-service team, comprising drafters, designers, project managers and application, electrical and mechanical engineers. Finally, our team also includes our installers, who set up custom conveyor solutions on site. With 30 years of experience in providing engineering expertise to our customers across more than 40 industries, Dorner's Engineered Solutions Group is able to draw from a vast base of conveyor solutions knowledge and apply it to your specific custom conveyor systems needs. Dorner's Engineered Solutions Group offers services in concept, design and needs analysis, along with layout and CAD modeling in 2D or 3D. Our services cover mechanical design, phased engineering, controls (HMI, PLC and servo panel builds), FAT and SAT, and replacement and spare-parts programs. Along the way, our project management service keeps you up to date on the Engineered Solutions Group's progress. Dorner's customer service agents are skilled in addressing questions from business leaders inquiring about our standard and custom-built conveyor systems. We enjoy taking the time to work with our customers to provide their companies with world-class conveyor solutions that fit their workflow perfectly and perhaps even revolutionize the way they do business.
Types of Dorner Custom Conveyor Systems
Dorner produces a range of custom conveyor systems to meet a variety of customer needs. Whether your business requires conveyors for work holding and elevation changes, line access and/or multiple belts, Dorner can create conveyor solutions that will streamline your facility's operations, elevating your business.
Conveyor Solutions for Work Holding & Elevation Changes
When it comes to holding parts to the belt for elevation changes or controlled positioning, this can be achieved in a variety of ways. Depending upon the application and product, Dorner conveyors that make use of magnets, vacuum, cleats or fixtures are available in a number of configurations.
Product Flow Conveyor Solutions
Controlling the continuous flow of products through the line is a critical part to maintaining peak efficiency. Product flow can be achieved using a variety of methods and components depending on the product, flow path and equipment.
Positioning Conveyor Solutions
Product positioning when stopping is often a necessity for processes such as inspection, assembly and/or feeding items into equipment. This critical function can be achieved using different Dorney conveyor solutions depending on the accuracy required.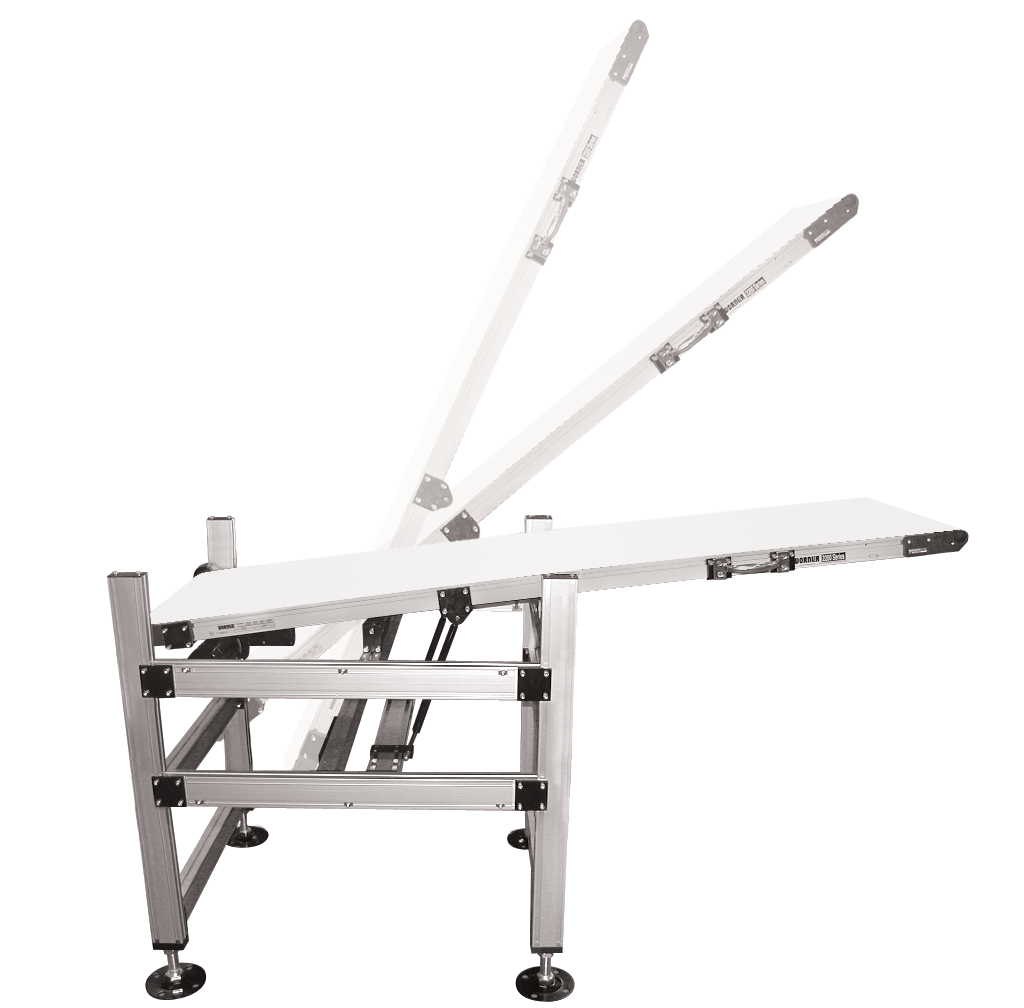 Dorner's line access solutions help free up valuable floor space. By utilizing lift gates and pivot conveyors in the conveyor line, access to equipment, work areas and the efficient movement of personnel can be provided.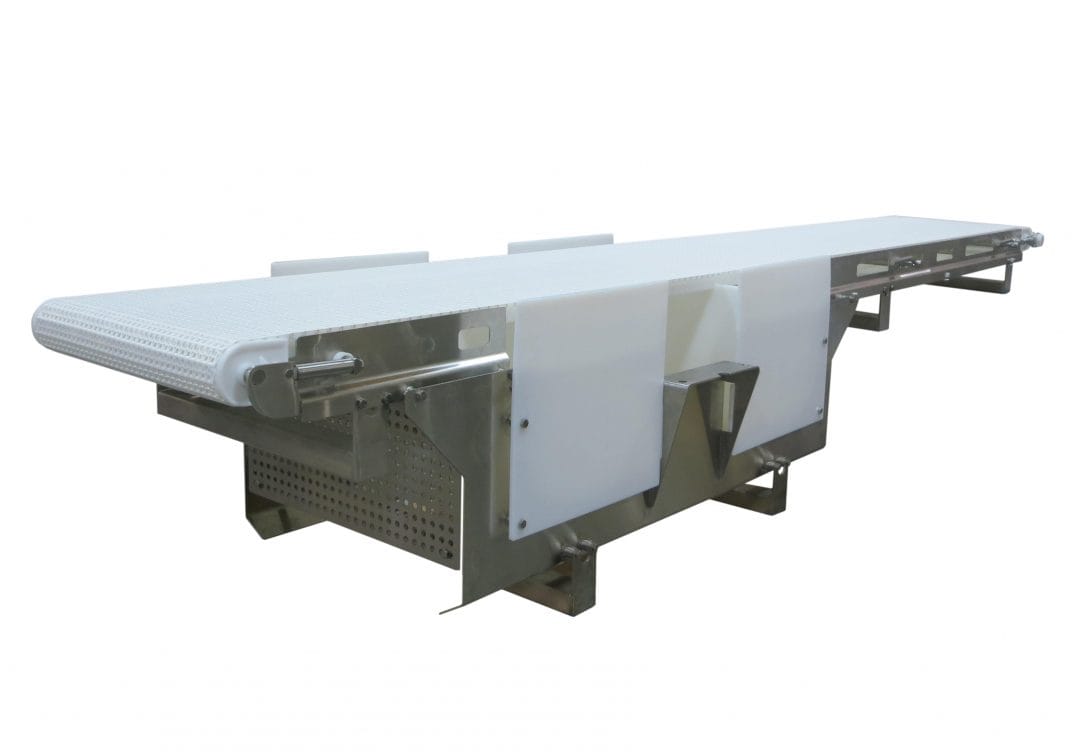 In-Line Inspection Solutions
In-line inspection is a pivotal step in most manufacturing facilities. Testing whether a product works, inspecting food products or pharmaceutical drugs for safety, or examining items' weight, size and/or shape are key for quality control. Processes involving in-line inspection can be automated and enhanced using a variety of Dorner conveyor modifications, with our distribution network providing complete solutions, encompassing robotic integration.
Multiple Belts | One-Drive Systems
When multiple lanes of product are needed, driving multiple belts or conveyors from a single drive is an energy-efficient option. Additionally, for wider products, common driven conveyors are an ideal solution for maximizing efficiency and space.
Custom Manufacturer of Conveyor Systems
Dorner proudly offers robust application, design and engineering knowledge to help enhance the efficiency and productivity of all our customers' production lines. As a custom manufacturer of conveyor systems, Dorner can help your business raise the bar when it comes to output. You'll stand to increase your company's profit margin with our high-tech solutions in place in your facility. Whether your business' needs are simple or complex as well as small or large, you can be assured that the Dorner team is committed to providing high-quality, first-rate solutions that deliver the greatest value and optimal fit for all your specific applications. We aim to please and put our customers' minds at ease, thanks to our enduring drive to provide premium solution flexibility, agile customer responsiveness and unforgettable operational excellence. When you do business with Dorner, a custom manufacturer of conveyor systems with a sterling reputation from a large customer base, you'll enjoy the industry's finest quality in a complete solution that's on time and within budget.
What Is a Conveyor System?
A conveyor system is a piece of mechanical equipment designed to transport items across locations. Conveyor systems provide notable speed and safety benefits, especially in moving heavy and/or bulky items, compared with the capabilities of human labor. These systems usually comprise a frame that supports rollers, wheels or a belt, among other conveyor types, for item transportation and are powered by motors or gravity, with some relying on manual power.
Conveyor solutions come in many forms and are able to provide a number of functions such as accumulating, depositing and rejecting, indexing and positioning, inspection and testing, and product flow and control. Conveyor systems are used in scores of industries such as the automation, baking and confectionery, dairy and cheese, food handling and processing, general manufacturing, integrators, material handling, meat and poultry, medical, metal working, packaging, pharmaceutical and ready-to-eat foods industries.
Businesses making strategic use of conveyor systems—from standard solutions to custom conveyor systems—are in prime position to achieve optimal efficiency and productivity. Clients such as Breadworks, Master Lock, Sumitomo Corporation and many others have leveled up their processes, watching their outputs rise dramatically and boosting their bottom lines.
How Conveyor Systems Work and Conveyor System Specifications
Most Dorner conveyor systems are powered by motor and are positioned on a frame, moving items from one location to another. A conveyor system's drive pulley, or spindle, usually serves as the drive pulley. With power, conveyor systems loop continuously, resulting in considerable speed benefits compared with human labor. The function of conveyors differs based on the kind of conveyor system used. Roller conveyors are commonly used in accumulating items, and belt conveyors are typically used in moving materials, for example. Conveyor systems have a range of specifications that determine their capabilities. Load capacity per unit length is an attribute used to determine loading margins. Maximum load capacity is connected to load capacity per unit length, and this attribute, also known as flow rate, is applied to fixed-length conveyors. Conveyor belt system speed defines speed capacities, with belt conveyors rated by feet per minute and roller conveyors measured by linear velocity, for example. Throughput is a conveyor system attribute, often in volume per unit time such as cubic feet per minute, used to measure the capacity of handling items. Configuration simply refers to the conveyor frame shape, such as straight, incline, decline, Z-Frame or curve . Drive location refers to the placement of drives in a conveyor system.
Conveyor Installation Services
Dorner not only provides custom conveyor systems but offers complete conveyor installation services. When you receive your custom-built solution, your business will benefit from having the conveyor installation services assistance of the Dorner team in setting up your new equipment.
Our highly qualified engineers help provide for an efficient, trouble-free startup, saving your business money and time compared with handling installation all on your own. Your business can expect complete turn-key delivery, staging, setup and debugging and maintenance training.
Additionally, with the seasoned Dorner team heading up conveyor installation, you can be sure your new conveyor solution will be installed correctly for peak performance and ready to operate quickly, keeping your production line moving.
Conveyor Systems Training Services
As part of our installation services, Dorner provides conveyor systems training. Your conveyor solution will be set up with expertise so your employees are well-versed in equipment safety and are able to maximize their conveyor systems' performance. Your employees will be able to get up to speed quickly on how to use your newly built conveyor solutions, thanks to the guidance of our experienced staff of field and service professionals. As a result, your team will best understand how to operate your equipment and realize peak efficiency and productivity from the start.
Conveyor Maintenance Program
Dorner also offers a preventative maintenance program so your business can ensure its custom conveyor systems stay finely tuned for superior performance and reliability. With our program, you'll receive a free initial on-site visit to evaluate your needs, a proposal to receive labor service or labor service with parts, and an inspection and adjustment of all belts. Also, as part of our preventative maintenance program, your business will receive all applicable lubrication, basic training on belt tracking and tensioning, and inspection and installation of worn belts, pulleys, bearings, drive train, gearmotors and accessories. Finally, you'll receive an audit of your current parts and 10 percent discount on all parts ordered through our program.