Engineered Solutions
Magnetic Conveyors
Dorner's fully customized and reliable magnetic conveyors can increase production and grow your facility's bottom line. Our magnetic conveyors are built to meet the needs of our customers requiring magnetic conveyor solutions to achieve peak efficiency and productivity in their businesses.
Magnetic belt conveyors ensure complete precision and control for magnetic materials being moved down your business' production line. When working with ferrous materials, having a conveyer that uses an industrial magnet belt to control the position of parts for processing is crucial to achieve high rates of precision and speed.
Conveyor systems designed to transport magnetic materials are increasing in demand and have made Dorner the ultimate destination for state-of-the-art non-slip conveyors.
Customers requiring magnetic conveyors to optimize complex processes need look no further than Dorner for their needs. Dorner's manufacturing facility produces custom conveyor systems quickly and cost effectively. Dorner is without equal when it comes to the delivery speed of custom-built conveyor systems.
Finally, Dorner offers complete installation and training services as well as maintenance planning for your magnetic conveyors.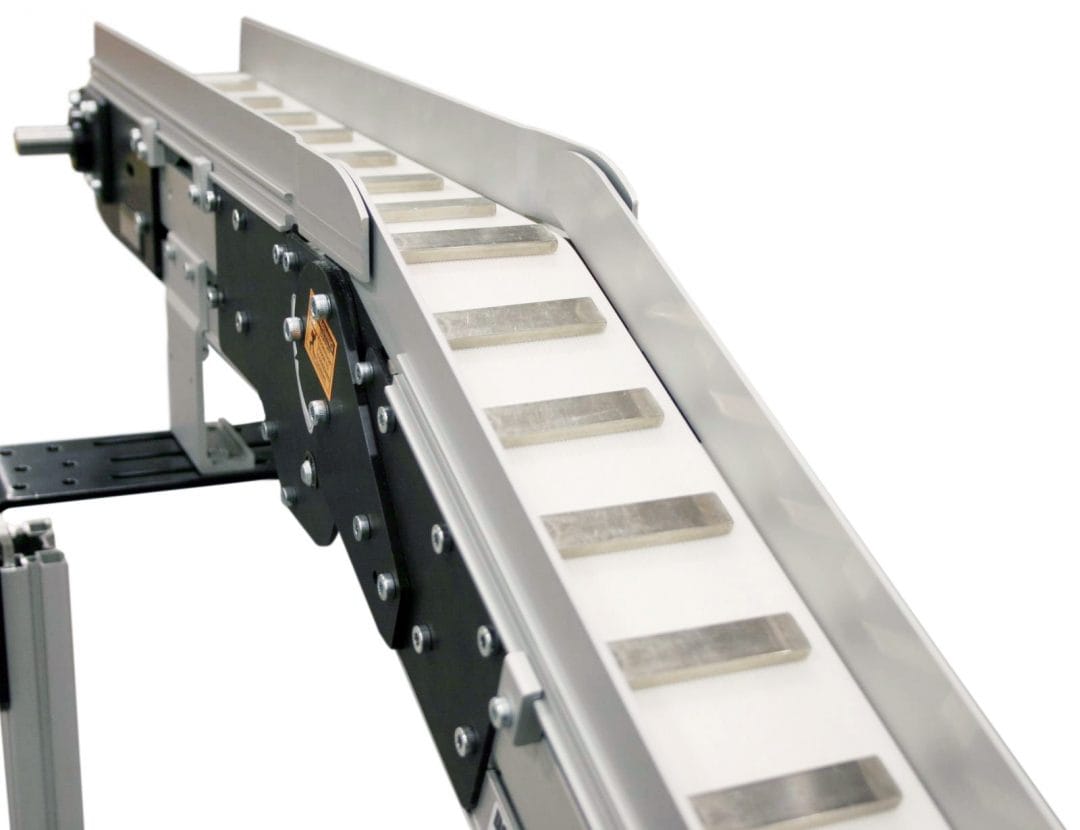 Dorner Magnetic Conveyors Are Customized for Efficiency
Every business needing a magnetic conveyor in its facility has a specific product to run. Therefore, no two solutions will work the same for different companies. A company moving nails, screws, bolts and other small objects will not need the same magnetization as a company moving larger, heavier magnetic parts, for example. Every conveyor features unique magnetic chips configured to handle the required product.
Magnetic belt conveyors are created by placing permanent ceramic magnets in the bed of a standard conveyor. These magnets can hold ferrous, or iron-containing, parts and run as any industrial conveyor should run. The magnets are placed with precision, providing the perfect magnetic holding power for these parts.
The conveyor and magnets are designed so they are strong enough to hold the parts for horizontal, inclines and vertical runs. This design makes them suited to tackle elevation changes and part holding. Every magnetic field is designed per application by strength and size, providing a truly customized conveyor system.
See a Dorner Magnetic Conveyor in Action
In this video, magnetic conveyors designed to transfer hand tools through a buffing process are shown. These conveyors were designed so that both sides of the hand tools can go through the process to lightly clean the laser marks.
This magnetic conveyor's buffering wheels were installed at the customer's facility so that the movement of the hand tools can be seen in this video. Hand tools are placed on the first magnetic conveyor between centering guides, and a magnetic bedplate holds these tools in place as the buffing wheel buffed one side of the tool.
Next, hand tools are transferred to the second magnetic conveyor, which is positioned upside down to enable the opposite side of each hand tool to be buffed. Finally, hand tools drop, at the end of the second conveyor, onto a UHMW plastic-lined chute where the bottom, non-magnetic conveyor would then return the hand tools to the operator.
Dorner Is a Leader Among Magnetic Conveyor Manufacturers
Dorner is a world leader among magnetic conveyor manufacturers, with many pleased customers declaring that Dorner produces simply unrivaled magnetic conveyors.
Our 2200 and 3200 Series conveyors feature aluminum extruded frames with T-slot construction. These conveyors also feature sealed ball bearings, rack and pinion belt tensioning, and V-guided and non-V-guided belt options.
Dorner's magnets are permanent ceramic magnets, which come in standard and strong strengths. Strong magnets are typically used only in centering and inverted applications. In most applications, two rows of magnets are used, with one magnet row oriented as north and the other as south. For large products, multiple magnet rows are utilized to provide additional magnetic strength. On Dorner magnetic conveyors, magnet rows are usually spaced at half the width of the product.
Decreasing zones enable gradual decreasing of magnet strength for smooth product transfer off a magnet or the end of a conveyor. This setup is used when the belt speed is less than 7.62 meters per minute (25 feet per minute) or product length (in the direction of the flow) is less than 76 millimeters (3 inches).
Dorner magnetic conveyors include options and accessories such as standard support stands a variety of guiding options, series standard mounting packages, gearmotors and controllers, and drip pans, and more belts.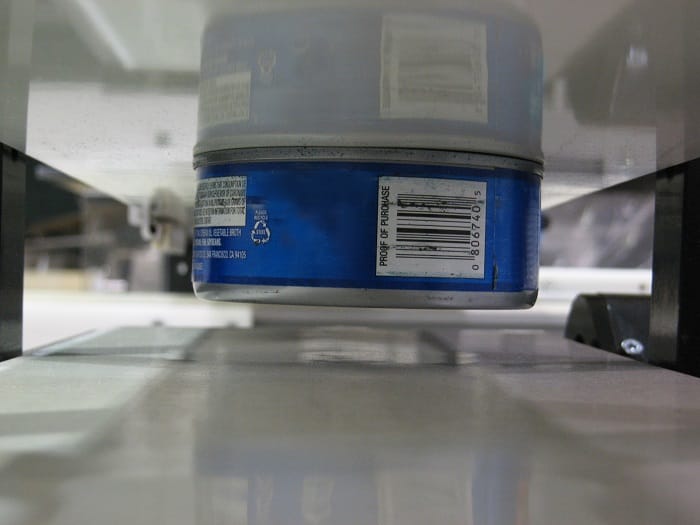 Every magnetic belt conveyor that Dorner produces is purposely created to improve the efficiency, production and growth of our customers' businesses. Dorner manufactures products of the highest quality by industry experts who've been trained to configure, design and assemble custom conveyors according to exact specifications.
Dorner offers a wide variety of magnetic belt conveyors that are designed with absolute precision and control in mind. Magnetic belt conveyors can be incorporated in our industrial and sanitary conveyor platforms.
What Are Magnetic Conveyors?
Magnetic conveyors contain permanent ceramic magnets in the bed of a standard conveyor. Magnetic conveyors hold ferrous parts fast to the belt and are ideal for elevation changes or part holding. They can be used in upside-down applications, with the strength and size of magnetic field designed per application.
Magnetic conveyors are tailored for each specific purpose, helping businesses achieve efficiency and productivity gains in a wide variety of industries. These industries include the automation, general manufacturing, integrators, material handling, medical and metal working industries.
Businesses choosing to make smart use of magnetic conveyors are in a place to achieve optimal efficiency and productivity. Clients such as Farason Corporation, Wisco and many others have raised the bar with their processes, seeing their outputs soar while increasing profits.
What Are Material Conveyors and Belt Magnetic Conveyors?
In addition to magnetic belt conveyors, magnetic conveyors are also referred to as material conveyors and belt magnetic conveyors. Businesses searching for solutions to transport items in their facilities may come upon these different terms during their research.
In the case of material conveyors, they're more widely known as material handling conveyors. These systems are designed to handle all stages of the manufacturing process.
How Magnetic Conveyors Work
Magnetic conveyors work in a variety of ways. Magnetic belt conveyors are created by placing permanent ceramic magnets in the bed of a standard conveyor. These magnets can hold ferrous, or iron-containing, parts and run as any industrial conveyor should run. The magnets are placed with precision, providing the perfect magnetic holding power for these parts.
Because of their magnetic feature, these conveyors can keep ferrous parts firmly in place while being moved along a facility line. Magnets run along the underside of a stainless-steel slide bed, attracting these ferrous parts and then releasing them at discharge points, where the magnets leave the slider bed path.
Magnetic conveyors are usually seen as the single best solution when part holding, elevation changes such as incline and decline, and even upside-down applications are called for in a company's processes.
Yet another attractive feature of these conveyors' functionality is that magnets can hold even large and heavy parts in place while moving along a production line. Strong magnetic attraction serves as a clamping force against a conveyor, keeping items small to large fixed firmly in place while vastly minimizing the chances that parts could become stuck or jammed along a line.
Magnetic Conveyor Installation Services
Dorner offers complete magnetic conveyor installation services. With the Dorner team setting up your equipment, your business will benefit from money and time savings compared with handling installation on your own.
Dorner's expert engineers can ensure an efficient startup, with your business receiving delivery, staging, setup and debugging and maintenance training.
You can be sure your magnetic conveyor solution will be installed correctly for the ultimate in performance and be set for use quickly, keeping your production line running.
Magnetic Conveyor Training Services
A feature of Dorner's complete installation services is our conveyor systems training. Dorner's squad of field and service professionals can ensure your employees are comfortable with using our equipment.
Your employees will gain a firm understanding of how to operate your magnetic conveyor. Your business will benefit from the equipment's peak efficiency and productivity, with little learning curve, thanks to our magnetic conveyor training services.
Dorner's conveyor training services are available for a fee.
Magnetic Conveyor Maintenance Program
Dorner's magnetic conveyor systems maintenance program can help keep your equipment primed for peerless performance and dependability. Your business will receive an initial on-site visit at no cost to evaluate your needs along with a proposal to receive labor service or labor service with parts and a belt inspection and adjustment.
Dorner's preventative maintenance program also provides our customers' conveyors with lubrication and inspection and installation of worn belts, pulleys, bearings, drive train, gearmotors and accessories. Your team will receive training on belt tracking and tensioning. Lastly, your business will benefit from an audit of your existing parts and 10 percent discount on parts ordered through our maintenance program.