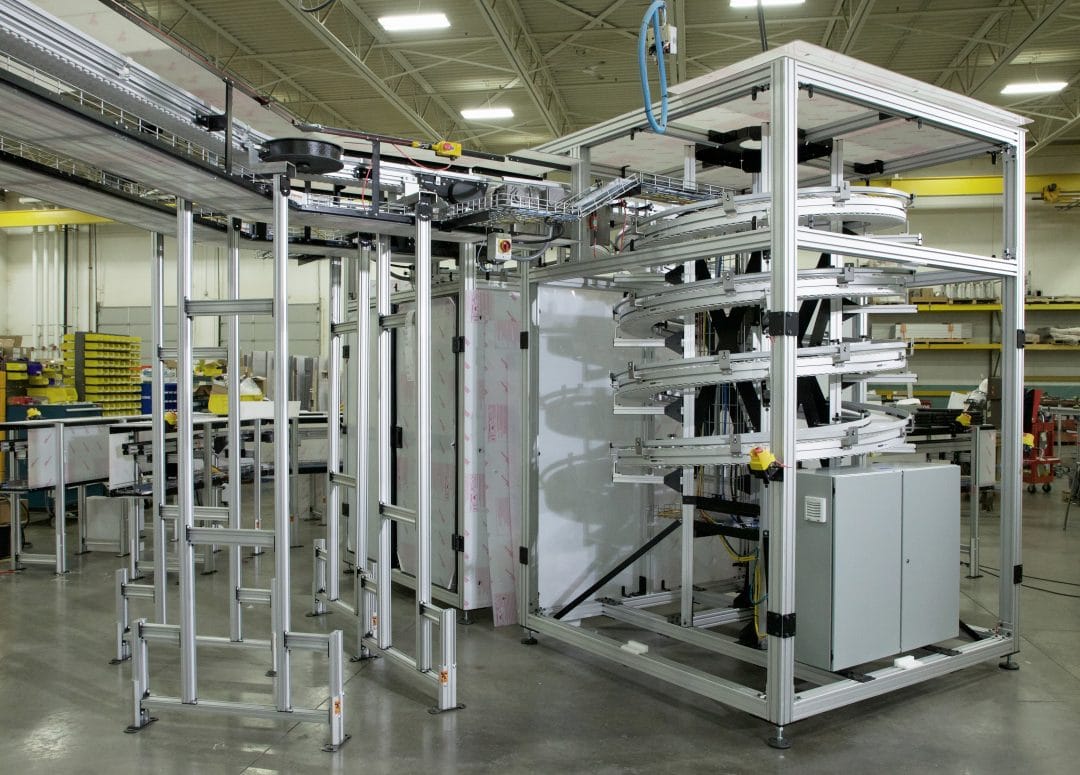 During the peak of the COVID-19 pandemic, automation proved to be an essential aspect of manufacturing. Many companies were looking for conveyors for their unique applications, such as mask manufacturing, medical device assembly, and pharmaceutical processing. Dorner's team offered custom solutions to help these customers meet the drastic increase in demand while continuing to grow into the future.
Flexible Medical Device Conveyor
Recently, a customer needed a system for moving medical devices that couldn't be transported directly on a conveyor due to their flexible shape. We created a system using our FlexMove conveyors and 2200 Series Precision Move Pallet conveyors that allowed the product to travel on pallets.
Take a look at the below video to see the conveyors in action.
Features of the medical device system:
The pallets are approximately 12" long and travel at 40 feet per minute (or parts per minute) on most of the system.
The overhead conveyor and FlexMove Helix conveyors allow the pallets to move around existing equipment and provide employee walkthroughs. These conveyors are about 9 feet tall.
Product stops are included on the 2200 Precision Move conveyors that control where the pallets can accumulate. Photo eyes watch for pallets backing up and stop them as needed. This prevents pallets from accumulating on the spirals or in corners where they could become jammed.
The system includes HMI technology to provide conveyor status and control. This is used for traffic monitoring and uses input from customer-owned equipment to verify the system is running.
This system includes a FlexMove Helix conveyor, which provides a buffering zone and product accumulation between processes. Additionally, the tight footprint means product can be around other machinery without taking up valuable floor space.
Pharmaceutical Tote Conveyor System
Dorner's Engineered to Order team has had several projects in the last few months for pharmaceutical applications transporting totes that carry prescriptions through processing lines for prescription mailing services. These are unique applications that require a high degree of accuracy as well as multiple points for operators to interface with prescriptions as they are filled and processed.
Similar to the previous system, Dorner combined our FlexMove conveyors with 2200 series conveyors to create a unique system that allows individual prescriptions to be processed accurately, while also creating safe workstations along the conveyor for operators to handle product for filling or inspection.
Check out this conveyor in action!
Features of the prescription tote system:
Tote creates a partially enclosed pallet to carry individual prescriptions and maintain accuracy throughout the process.
Photo eye pneumatic stops and diverting arms control the flow of totes.
Easily removable totes help to create an ergonomic working environment for employees
The flexible chain in our FlexMove conveyors allows for tight turns, saving space and improving the whole system's efficiency.
Learn more about Dorner's Pharmaceutical Conveyors.
Pallet Conveyor for Mask Manufacturing
The Covid-19 pandemic created an unprecedented need for disposable medical masks and respirators, which made it difficult for many manufacturers to keep up with demand. A disposable mask manufacturer reached out to Dorner looking for a puck-handling conveyance system for their new facility that would integrate with 12 mask assembly machines to transport product through the production line.
Through the combined efforts of Dorner with a local distributor, Shelley Automation, and integrator, Apex Motion Control, our team designed and built an extensive conveyance line utilizing our FlexMove conveyors and a custom puck-handling system.
Improve Production with Dorner's Life Science Conveyors
From handling medical devices for assembly, to processing pharmaceuticals and prescriptions, Dorner's team can design and build intelligent motion solutions for any medical manufacturing process. Contact us for a free quote on your next custom conveyor system.