Applications
Accumulation
Dorner's accumulation solutions ensure your line will run as efficiently as possible. Our patented accumulation tables and accumulation conveyors can handle a wide variety of products at the highest rates in the industry. They also provide the lowest total cost of ownership, with payback periods counted in months, not years.
When in-line accumulation conveyors do not offer enough product accumulation space, Dorner has a range of accumulation tables to suit your precise need.
Benefits of Accumulation Equipment
SMALL PARTS INDUSTRIAL ACCUMULATION
LARGE CAPACITY ACCUMULATION
PHARMACEUTICAL VIAL & BOTTLE ACCUMULATION
Dorner's Accumulator Partnership with Garvey
Dorner and Garvey have partnered to provide customers with innovative solutions to handling even the most unstable products. Together we identify specific needs and determine how to best increase your throughput. These accumulation solutions range from small footprint bi-flo tables, to complex distribution systems. Our industries include pharmaceutical, beverage, food processing, packaging, and more.
Contact us for a quote for a custom Dorner Conveyor-Garvey Accumulator solution, or click here to view Garvey's wide selection of accumulation options.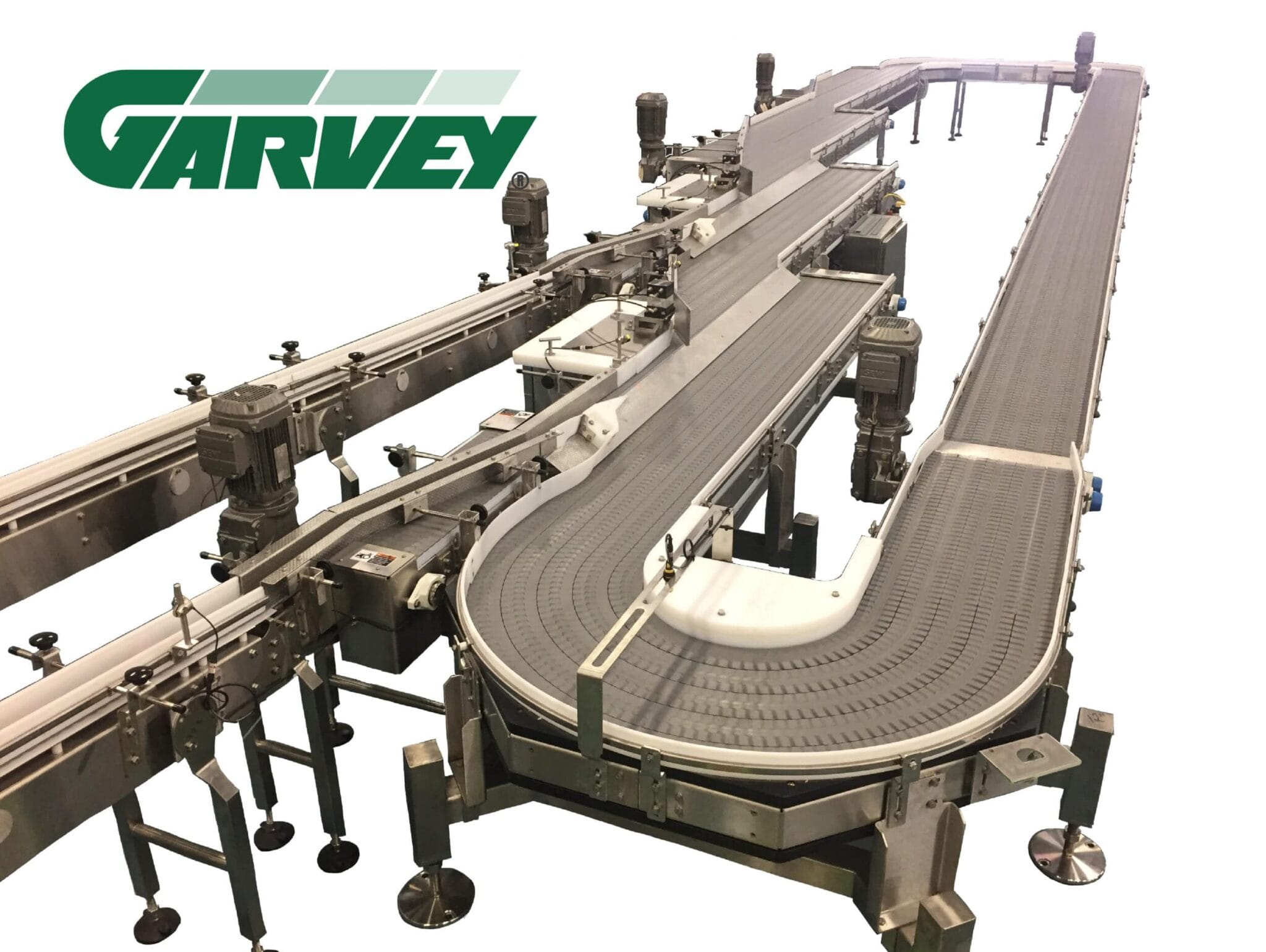 Dorner's Engineered Solutions Group offers custom small parts accumulation and recirculating tables. Designed for lightweight, low friction accumulation, these conveyors are ideal for recirculating small assembly parts in industrial manufacturing applications.
Benefits of Dorner's BiFlo Accumulators
Dorner's BiFlo recirculating tables combine two conveyors moving in opposite directions to recirculate product while it waits for the next step in production. Two diverting arms direct product towards the center of the table and can be manually shifted to redirect to an outfeed as needed.
Our BiFlo accumulators help product lines to better keep up with machine outfeed, and improve organization by allowing for simple product singulation. Our team can customize a BiFlo conveyor to meet the needs for just about any small parts accumulation application to help improve product flow and organization during the manufacturing process.
Large Capacity Accumulation
Whether you're working with unstable or delicate product, our accumulation tables are up to the task! We offer large capacity accumulation tables that are designed for minimal contact and zero pressure accumulation and buffering.
Benefits of Garvey's Infinity™ Accumulators
Garvey's Infinity™ line of accumulation tables utilize their patented technology to accumulate and single file product at high speeds to improve efficiency and throughput in the production line. These systems can be implemented for multi-laning, buffering, or unscrambling, all while functioning smoothly even at high speeds.
Most importantly, Garvey's Infinity™ accumulators are designed to meet the strictest industry regulations for safety and integrity. This includes reduction of areas where foreign materials can collect, minimized no metal-to-metal surfaces to eliminate entrapment, and easy to clean surfaces to meet FDA standards.
Other Benefits:
Eliminate backpressure
Simple designed for easy maintenance and low operation costs
Single file and lane divide functionality
Minimal friction and noise
Garvey Bi-Flo™ Accumulators
Garvey also offers their BiFlo™ Accumulation tables, designed for large-capacity applications and can be easily integrated into your production line. By utilizing opposing conveyor movement, these accumulation tables create efficient buffering areas with a small footprint to save on valuable space.
Garvey's Bi-Flo™ Accumulators offer a wide range of benefits including:
Increased Efficiency

Multi-Functional capabilities such as single file or lane divide

Minimized maintenance cost

Minimal energy use

Reduced friction & noise

And more!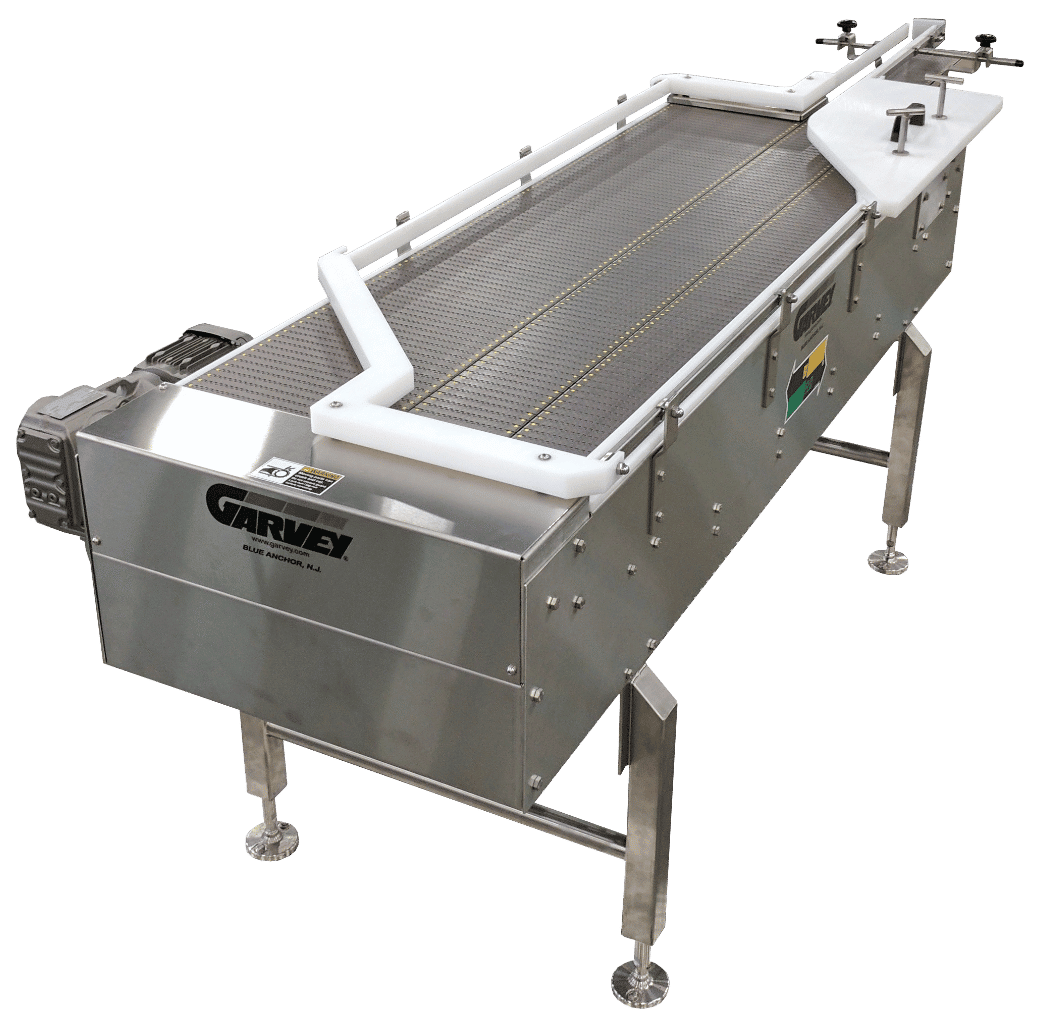 Pharmaceutical Vial & Bottle Accumulation
Our accumulation and rotary tables are designed to meet the unique needs of the pharmaceutical indsutry and deliver the highest rate of throughput while maintaining efficiency, safety, and easy cleaning and maintenance.
Benefits of Garvey Infinity™ RX Accumulators & Infinity™ RX Rotary Tables
Garvey's Infinity™ Rx Accumulator provides high-speed, zero-pressure accumulation designed specifically for the pharmaceutical industry. These systems are ideal for a wide range of product, such as vials, which are prone to instability and damage on typical conveyors. Garvey's patented technology virtually eliminates all vial damage and ensures a high rate of efficiency in the production line.
Lower motor count
Minimized energy use
Maximize line uptime
First in first out technology
Single file and line divide functionality
Best ROI
Proven industry results
On demand flow divide
For a space-saving accumulation option that maintains the order of products going in and flowing out, look no further than Dorner's vertical accumulation solutions.
Benefits of Dorner's Vertical Helix Accumulators
Dorner's compact helix conveyors offer a unique, flexible design to provide accumulation and buffering while maintaining a small footprint. Our patented side roller chain reduces corner friction allowing for faster speeds and smooth product handling, and is easily customizable to meet the needs of most applications.
This system includes options for custom infeed and outfeed lengths allowing the conveyor to extend beyond the spiral, reducing the number of conveyors required. Additionally, the infeed and outfeed can be positioned at any height or angle, making it easy to integrated into any system.
Applications
Accumulation
Buffering
Cooling product
And more!
Pressureless Loop Technology
Backpressure can also cause damage and collisions. Our patented pressureless loop technology protects your products by eliminating backpressure.
On most accumulation systems, all of the lanes run at the same speed. As a result, the products become nested, which means they must be de-nested at the pickoff point. Our accumulation tables feature a patented slowdown lane that de-nests products before they reach the pickoff point, reducing turbulence and also allowing processors to increase their overall line speeds by as much as 300%
Our accumulators are designed to meet the strictest industry regulations for safety and integrity. This includes reduction of areas where foreign materials can collect, minimized no metal-to-metal surfaces to eliminate entrapment, and easy to clean surfaces to meet FDA standards.
Before deciding on any solutions we'll have an expert meet with you to perform a free line analysis and find the best possible accumulation solution for your line.
Find the Right Accumulator for Your Needs
Want to learn more? Our team can assess your needs and system requirements to find the best
accumulation system for your application.
"*" indicates required fields